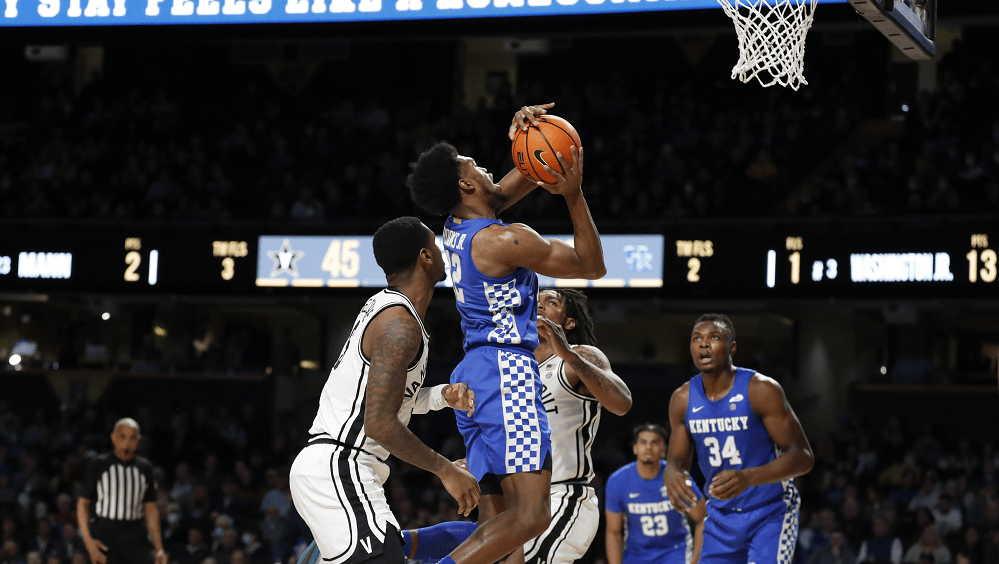 Keion Brooks had nine points at Vanderbilt and said it almost seemed like a home game for UK. (Vicky Graff Photo)
After losing close games at Notre Dame and LSU, Kentucky guard Kellan Grady admitted Monday that Kentucky needed to show it could win on the road, especially in the Southeastern Conference. Kentucky did that Tuesday night by building a 28-point lead at Vanderbilt and winning 78-66 despite a closing 16-0 run by the host Commodores.
Still, this was more like a neutral court in Nashville — or maybe even pro-UK — and the players certainly noticed.
"I was talking to Kellan (Grady) before the game (about UK fans)," said junior Keion Brooks, who had nine points, rebounds, two assists, and one steal in 23 minutes. "In a way, it was kind of like a home game.
"We have a lot of great friends who travel. They (fans) helped spark some runs and got a little rowdy. It's great to see how much our fans travel."
Brooks didn't want to downplay the importance of the win no matter which team had the most fans.
"You take any win on the road you can," Brooks said. "Even though we had a great crowd, it's still not an easy environment to play in.
"We have got to take it and build on this day by day and eventually come across a true road game and try to win that one as well."
Oscar Tshiebwe had a historic game — again. He was 11 of 16 from the field and 8-for-10 at the foul line and finished with 30 points, 13 rebounds, one assist and one steal. He's the first UK player with 30 points and at least 10 rebounds in a game since Tayshaun Prince did the same thing about 20 years ago.
When Kentucky beat Georgia in Rupp Arena Saturday, Tshiebwe spent over 30 minutes after the game signing autographs for fans.
After the Vanderbilt win, I asked him why he did that. He said it was "fate" that inspired him.
"We have got to do whatever we can do for them (the fans). Without them, we cannot do anything," he said. "Today the gym was packed. I thought it would be packed with Vandy fans, not our fans.
"We have to do something for them. You cannot just get up and go when people need something, especially little kids. I would do anything for them. We are examples for them. They want to do that one day so when they grow up they can follow us."