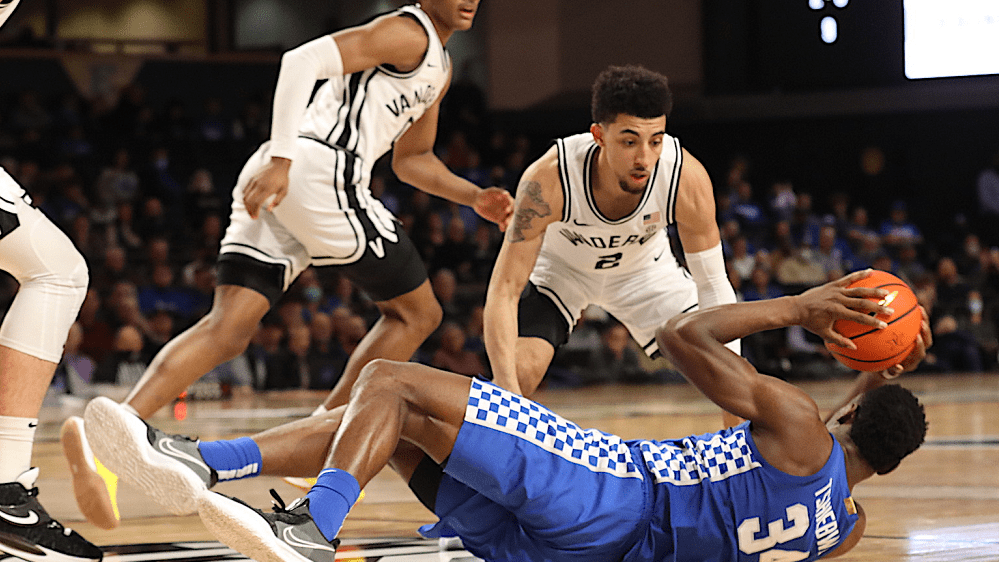 Oscar Tshiebwe leads UK in scoring, rebounding, steals and blocked shots but he's also willing to get on the floor for a loose ball. (Vicky Graff Photo)
Maybe Oscar Tshiebwe should be one of the leading candidates for the national player of the year. But guess what? I doubt he cares.
No, the Kentucky rebounding machine has a much better perspective on life and basketball than to worry about individual rewards.
He had 30 points and 13 rebounds against Vanderbilt Tuesday after getting 29 points and 17 rebounds against Georgia Saturday. He is the first UK player to score at least 29 points in consecutive SEC games since Kenny Walker in 1985 against Vanderbilt (31) and Ole Miss (33).
He was the first UK player to have at least 30 points and 10 rebounds in a game since Patrick Patterson in 2008 — something he said was "crazy" because he never thought about scoring like that.
He's also the first UK player with at least five games of 20 points and at least 10 rebounds since Julius Randle did it seven times in 2013-14 — a mark Tshiebwe is likely to break this season.
That's exclusive company for Tshiebwe, who also leads the nation in rebounding with 15.1 per game. He also leads UK in scoring (17 points per game), field goal percentage (.627), blocked shots (23), and steals (21).
Yet he always credits God and teammates for his success.
"I believe in God and trust in God and give all the glory back to God because I don't perform to my own strength. God always helps," Tshiebwe said after the win at Vanderbilt. "I just go out there and fifth. And the first thing I do with everything is invite God into it. God always helps me."
Tshiebwe says the Bible says anything is possible and he's making that look true this season with the way he's playing and trying to establish his legacy at Kentucky.
"I want my name to be remembered forever, not just as a basketball player but the way I treat people, the stuff I'm bringing to this place, Kentucky basketball, I'm not just being a basketball player," Tshiebwe said. "I want my name to be remembered as Oscar who was different, not just as a basketball player."