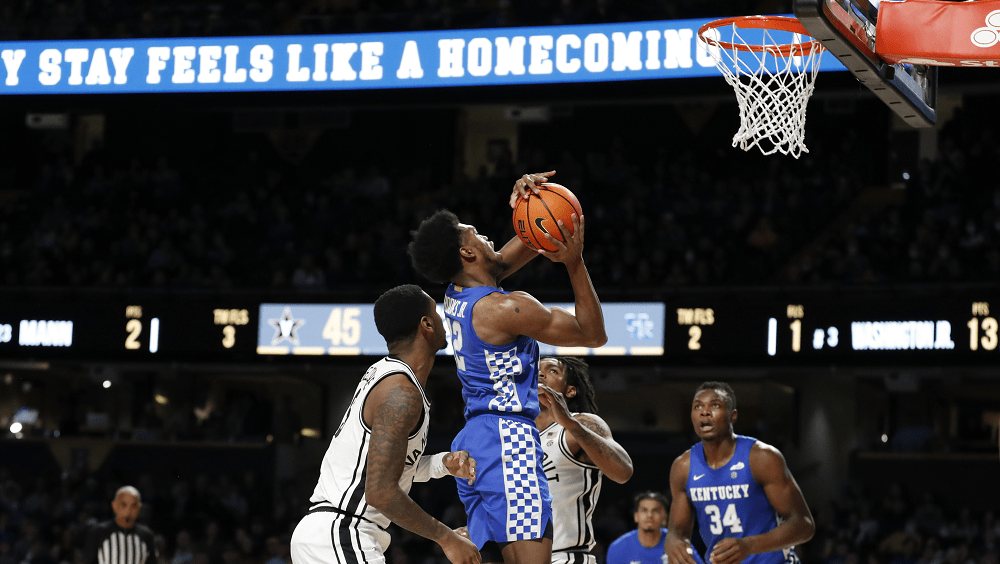 Keion Brooks will be tested Saturday by a Tennessee defense that did not give up a field goal to either starting South Carolina forward Tuesday. (UK Athletics Photo)
It's time to find out just how good Kentucky might be. The Cat host Tennessee Saturday, play at Auburn Jan. 22, and go to Kansas Jan. 29. Kentucky also has to play at Texas A&M Wednesday and host Mississippi State Jan. 25.
"This is when your team either wins or learns," Kentucky coach John Calipari said Wednesday on his weekly radio show. "We are getting better but let's go do it against a team you are not going to get away from and it might come down to the last four minutes."
Tennessee has won its last two games in Rupp Arena — but UK did win in Knoxville last year when it was only 9-16.
Kentucky is coming off an easy win at Vanderbilt led by Oscar Tshiebwe's 30 points and 13 rebounds. No. 22 Tennessee is coming off a 66-46 home win over South Carolina.
The Vols did not allow either starting South Carolina forward to make a shot and as a team the Gamecocks were only 11 of 30 on 2-point shots. The Vols had 11 steals — their ninth game with 10 or more steals — and rank second nationally in steals. That helped Tennessee limit South Carolina to 0.667 points per possession — the ninth time this season the Vols have held an opponent below one point per possession.
"Tennessee is really good," Calipari said. "They are physical. If you are not ready for a physical game and if you accept being blocked out, this is a really hard game to play. If you are not going to body up somebody, it's a hard game.
"They are going to set solid screens. Are you ready to fight the screen or you  going to melt?"
South Carolina coach Frank Martin indicated his team melted against that physical play.
"Going into the game, I kept telling those guys that this was going to be the most physical game that we would have this year to this point. We didn't answer the ball from that standpoint," Martin said.