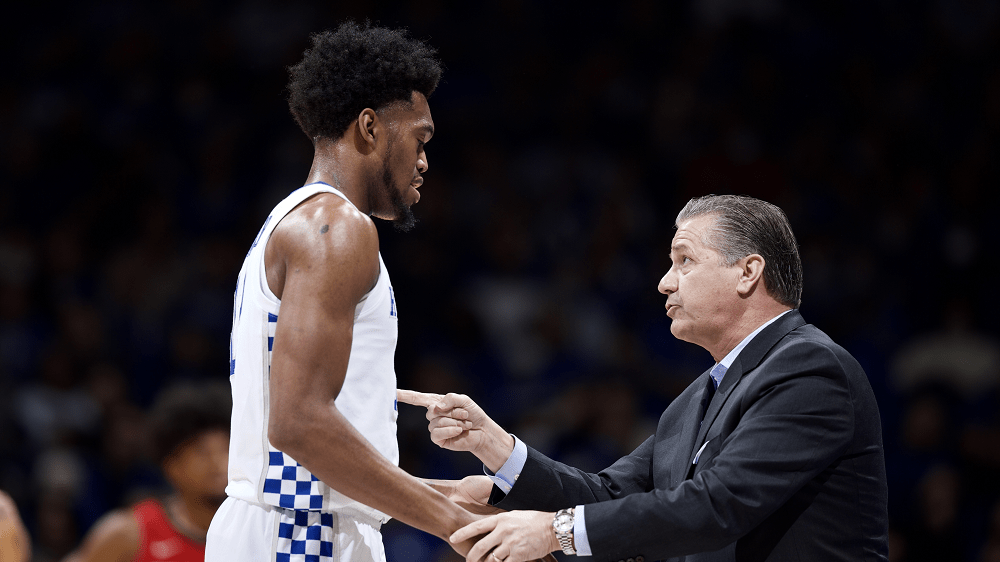 John Calipari encouraged UK fans to wear masks to help fight what he fears is an even bigger COVID outbreak coming to the state. (UK Athletics Photo)
Before he issued a statement encouraging Kentuckians to wear masks to help fight COVID, John Calipari knew one thing.
"I don't know if it was divisive, but I knew it would make people mad at me," the Kentucky coach said Friday.  "But, yeah, I've had a lot of people mad at me for a long time and so I'm fine with that."
Calipari said he called UK president Dr. Eli Capilouto asking what steps could be taken to mitigate COVID outbreaks at UK. The UK president told him "the next two to three weeks it is going to be hot" before hopefully numbers go down.
"I said, 'Well, we're boosted. We're vaccinated. We're mitigating.' I said, 'What else?' He said, 'KN95 masks would be the best, and if you can convince them to wear it, I think that will do what it can to help,'" Calipari said. "Now, that's why I said it. We all, staff and players, have the KN95s."
Calipari said he was not trying to "mandate masks" in Rupp Arena for UK games but rather hoping the state would work together to fight COVID.
"Now, 91 percent of the faculty and staff and students are vaccinated on this campus, which means if they get it, they're not going to get a major issue. But you still don't want them to get it because there's so much, we don't know about this thing," the Kentucky coach said.
"But it's blowing through our state right now. It is. And wearing a mask, being vaccinated, having a booster helps. And it helps protect everybody.
"Now, that may make you mad, I don't know. It ain't political. I'm not – no one really knows – I've never really talked about where I am politically. Everybody thinks they know, but they don't know. This isn't political. This is more, let's stay safe. Somebody told me they got mad because I said two weeks. I only said that because everybody's saying it's going to be hot.
"How about this? Maybe it's three weeks. Maybe it's one week and we see it decline and we're able to move back. But that was my reasoning, and I knew it would make some people mad, but I think it was the right thing to say. I'm not trying to aggravate anybody. I'm not trying to play politics. Just trying to keep people safe."