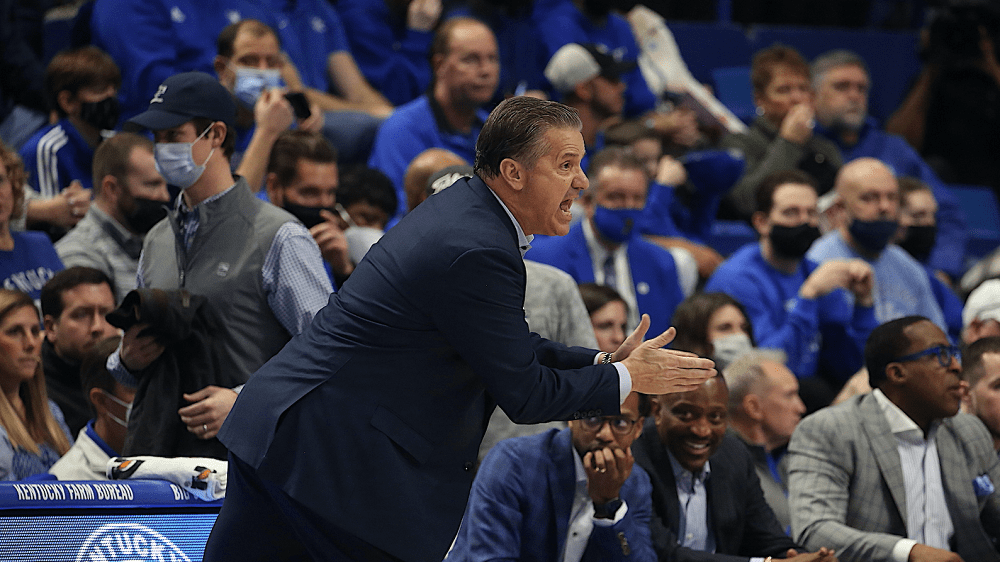 John Calipari is not a coach to live and die with the 3-pointer. (Vicky Graff Photo)
Even though he claims he does not listen or read anything about his team, Kentucky coach John Calipari obviously gets information from somewhere because he knew there had been a lot of second-guessing about him the last year or so. It heated up again after his team lost at Notre Dame and then LSU. But a 28—point win over Tennessee Saturday certainly vindicated Calipari for what he had been saying about this team and not needing to depend on 3-point shooting to win.
"I'm not going to argue with people. They have their own opinions. I'll let them be wrong. But here's what I'd say to everybody listening: I have this team every day. I'm in the gym every day. You've never been in the gym. I don't know how you can tell me exactly how you think a team or player can play. You've got to see them every day," Calipari said
"Now, people have opinions, and it's fantasy basketball. It's the day and age, and I'm fine. I've had a little bit of success doing this a certain way. I mean, I'm not saying it's the most successful, but it's been pretty successful, not only here but at other places.
"I don't like living and dying with the 3. I just don't. If we make a bunch of them, we win big. If we don't, we win by eight, so that you can keep going and keep building."
Kentucky hit 11 of 18 3-pointers against Tennessee — a season-high 61 percent mark. It also went 20 of 21 at the foul line and scored 1.55 points per possession, a season-high mark for the Cats, while scoring 107 points against one of the nation's better defensive teams.
"They spread the defense, and we shot layups. That's why the percentage was what it was," Calipari said.
.
"When we're playing, I literally did not look at the score until I walked off the court at halftime. I'm more concerned with how we play. I'm trying not to make this game-to-game. If you do that, you torture yourself and your team.
"Are we getting better? Our history is that our teams play better at the end of the year. That's the history. So, is this team getting better? Are individual players getting better? That's my focus."
Calipari knows this week's games at Texas A&M and Auburn and then one Jan. 29 at Kansas will tell him a lot more about his team.
"Winning will take care of itself. We've got three road games. It'll be hard to win any of them," Calipari said.