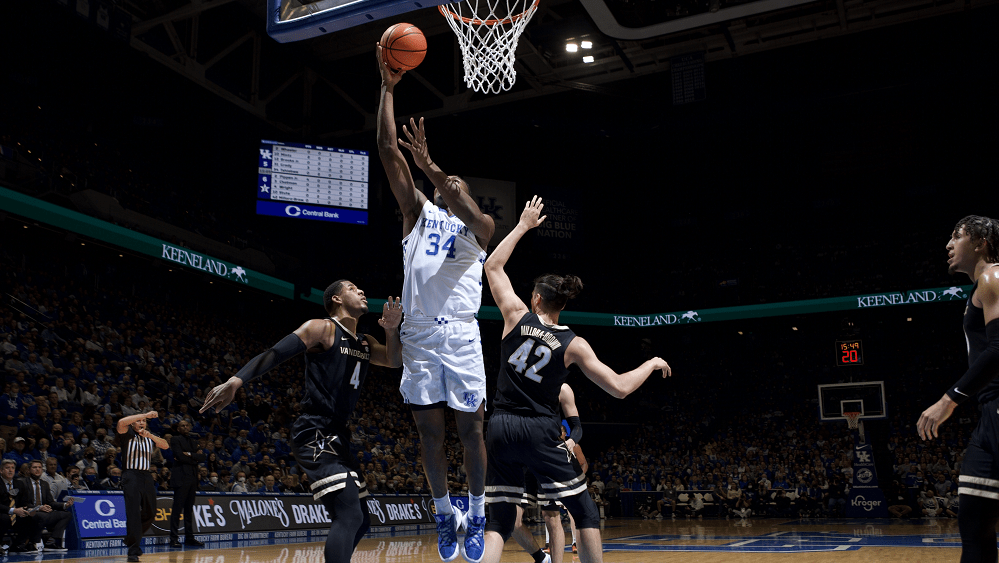 Oscar Tshiebwe had another double-double with 11 points and 17 rebounds but got "beat up" by Vanderbilt. (UK Athletics Photo)
For perhaps the first time this season, Oscar Tshiebwe obviously got frustrated. Vanderbilt used a physical approach to try and disrupt Tshiebwe — and it kind of worked. The Kentucky center still had 11 points, 17 rebounds, four steals, three assists, and one block in the 77-70 victory but it was not a joyous 35 minutes on the court for him like it normally is.
He had four turnovers and only five field goal attempts. He went to the foul line 13 times because he was hacked, pushed, and knocked around so much but missed six of his free throws.
"They egged him on," Calipari said when I asked him if Tshiebwe was as frustrated as it looked it.
Calipari said it is not easy to stop Tshiebwe's progress but he better get prepared for it.
"Now what do you think the other coaches that are watching this game are going to say?" the Kentucky coach said. "Don't let him move. In other words, if he tries to cut, chest him, bump him …  do stuff to aggravate him.
"He's going to have to be smart because now that's what they'll do, because you can't stop his progress from running unless you do. And they let you do it. You push, what do they say? Well, you fouled. Like I said, it was a physical game, but it is what it is."
Teammates knew what was going on with Vanderbilt and its physical play against Tshiebwe, a 255-pound "beast" who has dominated most teams UK has played.
"Oscar gets beat up all the time just because of how big and strong he is," Keion Brooks, who had his second straight 20-point game, said. "I know it is probably tough on him sometimes just because he feels like he is getting whacked on just because of how big he is but is expected to play through it."
Brooks understands how teams are trying to get to Tshiebwe mentally because they cannot cope with him physically.
"I try to tell him just to keep his head," Brooks said. "That's the only way that you can stop him is having him out of the game due to fouls or other situations. But he's gonna figure that out and he's just got to do a better job of keeping his head in the future."
Vanderbilt coach Jerry Stackhouse said the focus was shutting down Kentucky, not Tshiebwe.
"We know that he's a huge part of that and that he's going to give them some points," Stackhouse said.  "I felt like he camped out in the paint an awful lot, maybe even more so than should be allowed. He had a pretty good game for them."