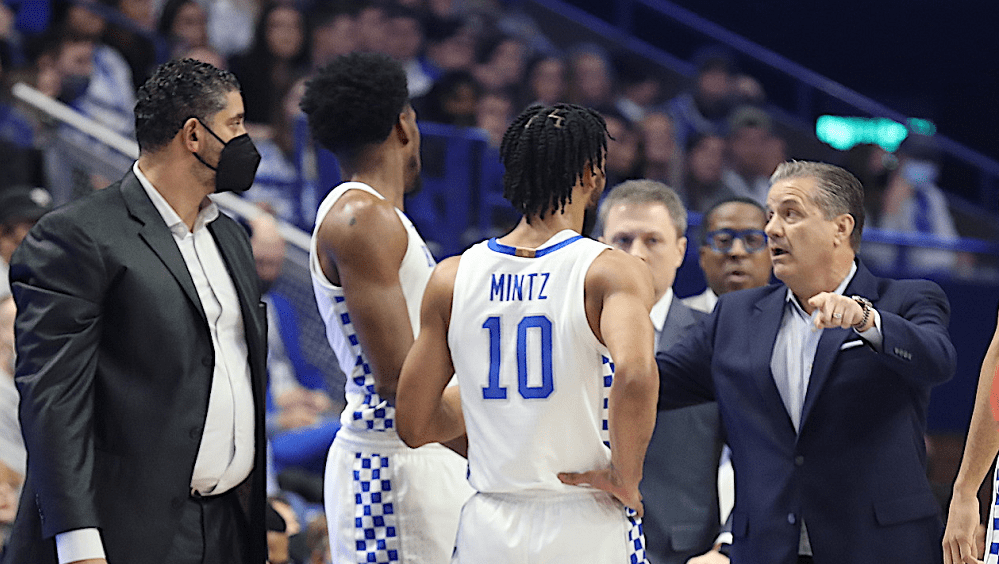 John Calipari is trying to risk as little exposure as possible to COVID and that means no postgame handshakes or in-person press conferences. (Vicky Graff Photo)
After Kentucky's 77-70 victory over Vanderbilt Wednesday coaches John Calipari and Jerry Stackhouse did not shake hands. Both coaches picked up a technical foul during the "rock fight" that produced 42 fouls and 58 free throws because of the physical play.
So why didn't the coaches shake hands? Was it something that happened during the game?
"No, no. What happened, I'm looking around the country, and many coaches are just doing what they do in the NBA, which I did. I acknowledged him," Calipari said.
Calipari said he got worried after UK played Kansas Saturday and a Kansas player who played in the game later tested positive for COVID.
"Basically he played with COVID," Calipari said. "Now I'm saying, I'm not sure we should shake hands. Give us another two weeks. The stuff we're doing with you (in the media), Zooming, it's perfect. I don't need to be in everybody's company.
"It's the same thing with, I think, South Carolina and Mississippi State. I saw those two coaches – great guys, both of them – they gave the peace sign and left. They told the team that we don't need that right now. But no, that was nothing."
Kentucky junior Keion Brooks, who had 20 points against Vanderbilt, said he understands the health concerns but insisted UK has the "right people" looking out for the players.
"They take it off our plate so we can just go out there and play basketball," Brooks said.  "We're really locked in on practicing, watching film, getting better every day. And then, when stuff like that comes we'll deal with it then."