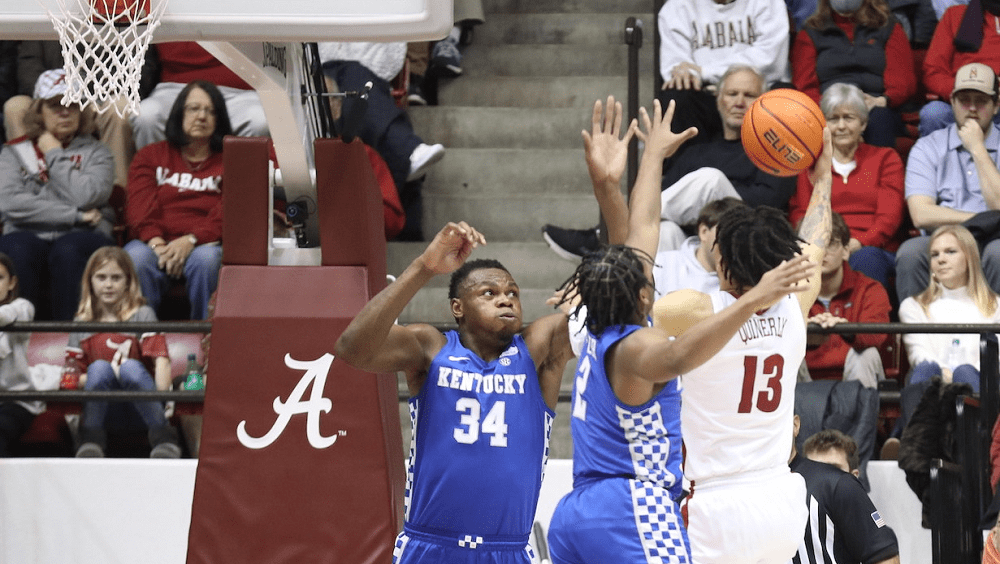 Kentucky's defense was too much for Alabama to overcome. (Vicky Graff Photo)
The Kentucky bandwagon is filling up. It started when Kentucky ripped visiting Tennessee by 28 points. It didn't slow down when Kentucky lost at No. 1 Auburn with star guard TyTy Washington out most of the game with an ankle injury.
The momentum really took off when UK routed Kansas 80-62 and now it is going to soar even higher after Saturday nights's 66-55 victory at Alabama.
"Kentucky can beat you 95-90, or they can beat you 65-60. That's a critical quality to take into the NCAA Tournament," Seth Davis of CBS Sports posted on Twitter.
Another CBS Sports member, Jon Rothstein, tweeted UK played the best defense he's seen an opposing team play in Tuscaloosa in two years. Alabama missed 46 of 64 shots from the field overall and 27 of 30 from 3-point range. Alabama managed just 28 points in the second half.
ESPN analyst Jimmy Dykes noted during the game that UK coach John Calipari had regained his "swagger" and that Kentucky has the "best win in college basketball" this year with the victory over Kansas — the same Kansas that demolished Baylor just before UK beat Alabama.
"All the pieces are there for a deep run (in the NCAA Tournament)," Dykes said.
Kentucky seemed to have that before the Alabama game and just like that found another dynamic piece in freshman forward Daimion Collins. He had TWO points in Southeastern Conference play and had played seven minutes total in his three previous games.
Against Alabama, he had 10 points and six rebounds — both career highs — in only nine minutes. Calipari said he was the reason Kentucky won.
Not to disagree with Calipari, but there were a lot of reasons again Kentucky won and that's why this team could win a national championship.
— Freshman guard TyTy Washington missed his first three shots but hit six of his next 12 and finished with 15 points, three rebounds, two assists, and one steal. He hit a key 3-pointer in the second half.
— Keion Brooks didn't have a third straight 20-point game but he had 10 points on 4-for-9 shooting and five rebounds.
— Kellan Grady was clearly the focus of the Alabama defense but went 3-for-5 from the field and had 10 points, four rebounds, one assist, and one steal.
— Oscar Tshiebwe missed dunks and close shots but still managed another double-double with 10 points and 15 rebounds despite going 4-for-13 from the field. He also had four steals, one block and one assist.
— Davion Mintz provided a need spark off the bench in the first half and had seven points.
— Sahvir Wheeler went 0-for-4 from the field but had seven assists, three steals, and even three rebounds.
— Jacob Toppin made a dynamic block on an Alabama fast break, hit his only shot, grabbed two rebounds, and had one assist in only 11 minutes off the bench.
— Lance Ware played only four first-half minutes due to Collins' productivity but made his only shot, grabbed a rebound, and made one steal.
Washington said UK could win a game like this because it is playing with confidence but that the win gives Kentucky even more confidence.
"We know at the end of the day we are going to get everybody's best," Washington said. "We are feeling very confident and once we play we are not playing to lose. We are playing to win. When they make runs, it's important to fight through it."
Kentucky shot 40 percent (24 of 60) and got outrebounded 47-44. The Cats also had 15 turnovers and put Alabama on the foul line 24 times. Yet the Cats still won.
"They never lose here. Hate to tell you but neither does Kansas. You go into a game like this and you don't care how you win," Calipari said.
Actually, Alabama did lose at home to No. 1 Auburn this season … but you get Calipari's point about the back-to-back road wins.
"There are all kinds of ways of doing this (winning)," Calipari said. "We are doing it the way we do it."
Calipari said friends call to tell him how much fun this team is to watch because of the way it passes.
"They say this is the best offense I have seen and they are going nuts about the way we play," Calipari said. "The other thing they are saying is we fight and we are not afraid to compete."