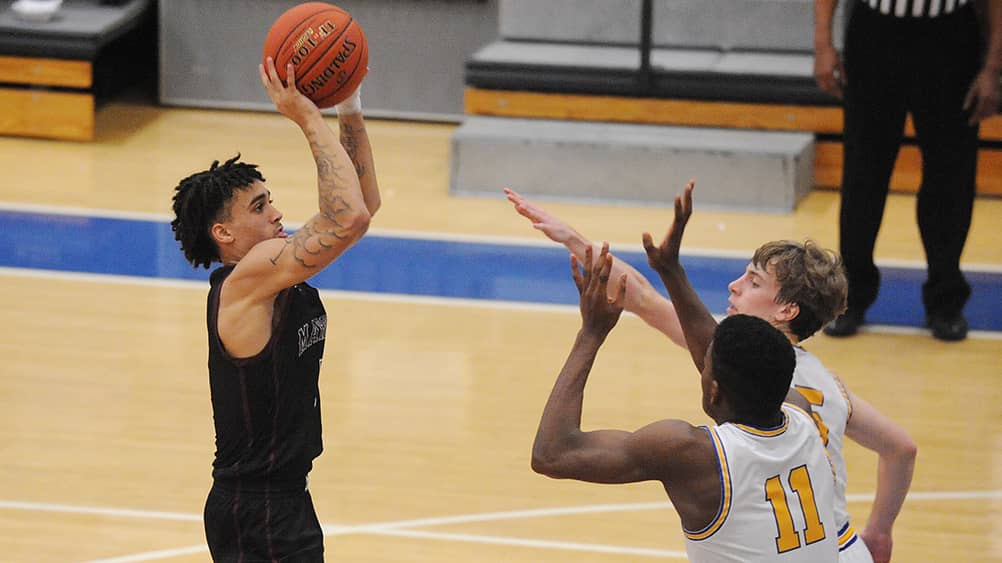 Both Caldwell County and Hopkins County Central have 7th District championship aspirations this season — but they'll have to put an end to the Madisonville-North Hopkins stranglehold on the title to get there.
The Maroons have won the last 12 district championships and own the No. 1 seed again after an undefeated regular-season run through the district.
Madisonville has played in three straight 2nd Region championship games — winning regional titles in 2019 and 2020.
The Maroons are 20-8 this season and are rated third in the region behind only Lyon County and Hopkinsville in the KHSAA RPI.
Senior guard Kale Gaither leads Madisonville at 23.5 points a game while senior forward Zach Tow is averaging a double-double at 13 points and 11.6 rebounds.
The Maroons have won five straight.
Madisonville will take on No. 4-seeded Dawson Springs, which has been shorthanded over the last few weeks and has dropped its last eight games.
Senior guard Dilyn Skinner leads the Panthers at 12.7 points a game while senior center Rett Nieters gets 12 points and 8.8 rebounds a contest.
Dawson (3-26) has not beaten Madisonville on the basketball court in 25 years. The Panthers' last win in the series was a 61-60 decision in the 1997 district tournament — Dawson's last district championship.
Those two teams will square off in Tuesday's opening semifinal game at 5:30 p.m. at Caldwell County.
The late game features host Caldwell, which earned the No. 2 seed, and third-seeded Hopkins County Central.
The Tigers (18-10) won both regular-season meetings with the Storm, but both of those games were tied in the second half before Caldwell went on to win.
Much of Caldwell's hopes rest with KABC 2nd Region Player of the Year Jabrion Spikes, who leads the region in both scoring and rebounding this season with 30.6 points and 12.1 rebounds.
The Tigers have been competitive with every team on their schedule, but fell to Madisonville 58-50 and 52-49 — the latter game in overtime in Princeton.
Caldwell has won three of its last four games.
Hopkins Central is 13-11 this season and 4-2 in its last six games.
Junior guard Marcus Eaves leads the Storm at 26.2 points and 8.1 rebounds a game this year.
Hopkins Central is coached by former Caldwell standout Michael Fraliex, further adding to the rivalry.
The Tigers have taken eight straight from the Storm to knot the all-time series at 27-27.
Hopkins Central was the last team not named Madisonville to win the 7th District championship — in 2009.
Caldwell won its only 7th District title in 2007.
Caldwell and Hopkins Central will meet at 7:30 Tuesday night.
The semifinal winners will then meet for the district championship Friday night at 6:00.
Tuesday's winners also advance to the 2nd Region tournament next week.