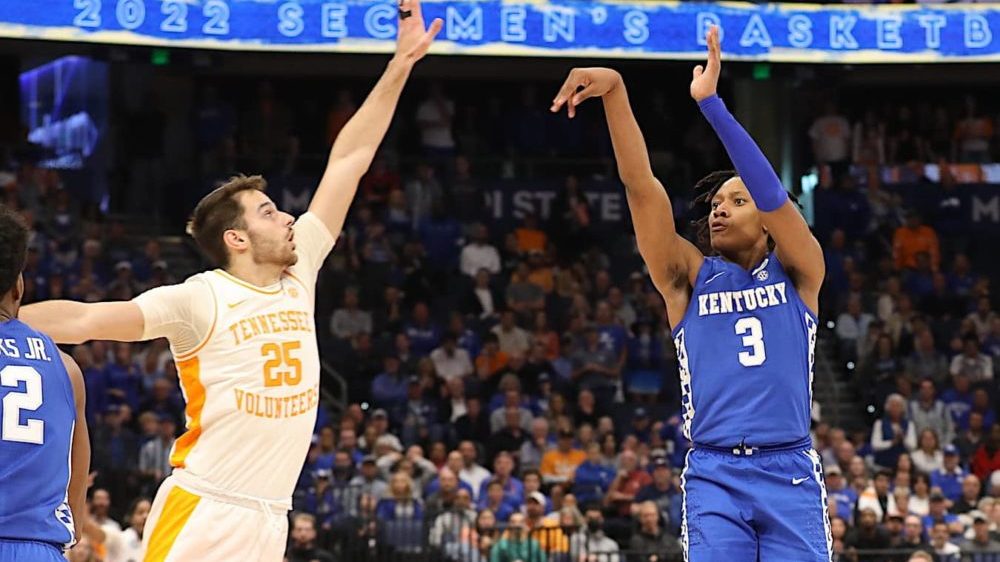 Kentucky guards made just 10 of 41 shots against Tennessee Saturday. (Vicky Graff Photo)
Remember back two months ago when Kentucky dismantled Tennessee 107-69 in Lexington. The Cats were 11-for-18 from 3-point range in that win. TyTy Washington had 28 points,  Sahvir Wheeler 21, Kellan Grady 16, and Davion Mintz 10. Together the four guards were a  combined 9-for-17 from 3-point range and 27-for-36 from the field overall.
In Saturday's 69-62 SEC Tournament loss to the Vols, those four guards were a combined 1-for-17 from 3-point range and 10-for-41 from the field. Tennessee's guards also outplayed UK's backcourt in a 76-63 UT win in Knoxville Feb. 15.
"I feel like the looks that we got were good. It was just one of those days where the ball didn't go in for us," said UK forward Keion Brooks, who did make seven of 11 shots Saturday, said.
"There were some situations where we didn't help each other out with getting open to get some of those shots, and sometimes we weren't shot-ready when the ball was kicked out so us. I think for the most part, we got a lot of good looks.
"And Kellan (Grady) had some shots that rimmed in and out. Jacob (Toppin) and his pull-ups and 15-footers, shots that he never missed, went in and out. A lot of shots like that didn't go our way tonight, but sometimes that happens, but you just have to continue to fight through it, and we still had a chance to win even with all that."
Oscar Tshiebwe and coach John Calipari both thought the Cats had players who were hesitant to shoot when shots were not falling.
"We had a couple of players that did not want to shoot when they were open. Like Jacob, he always makes those 15, 17 footers, but the coaches say you have to shoot them," Tshiebwe said.
"I'm down there fighting for rebounds. He miss. I probably have 50/50 chance to get the rebound. They just have to shoot the ball when they're open. You have to do the things that is going to help us. We're going to go back and work on that stuff and be ready to turn it up next week."
Calipari said he wishes his guards had shot more despite the misses.
"I still want them to shoot more, and Oscar is right. If you shoot it and you miss it, we have a beast standing under the basket. Just shoot it. If you are anywhere near my bench, if someone on my team ever says, well, 'He takes me out every time I miss a shot, 'look, you're a liar. I'm right there. You lied. You need to ask for forgiveness," Calipari said.
"He tells you to shoot it, and you don't shoot it. Don't say he takes you out for misses."