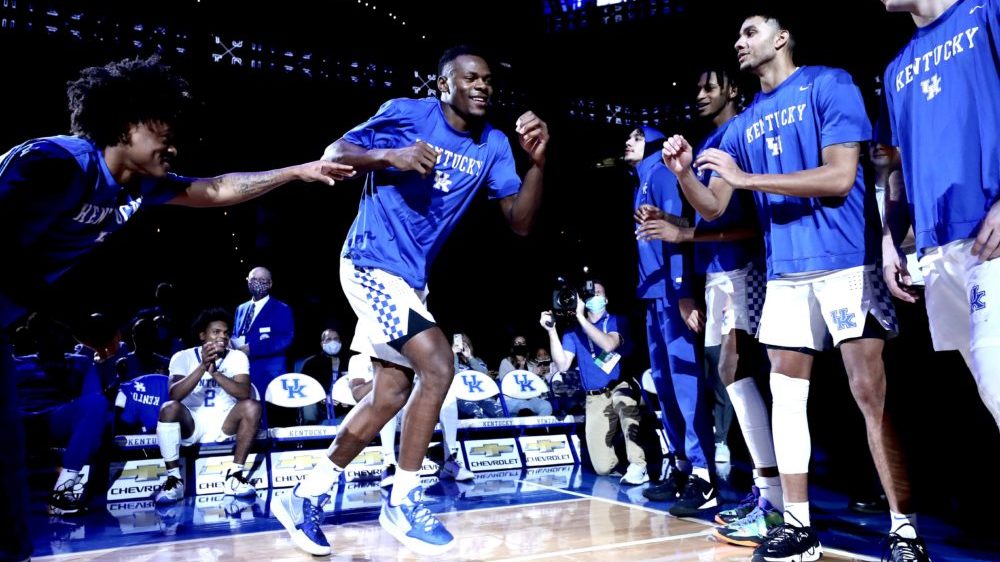 Oscar Tshiebwe was more introverted in high school than he has been at Kentucky on and off the court. (Photo by Vicky Graff)
After leading the nation in rebounding at 15.1 per game and also leading Kentucky in scoring (17.4 points), steals (1.8), blocks (1.6) and field goal percentage (60.6), junior Oscar Tshiebwe was named player of the year by the National Association of Basketball Coaches, Sporting News, Associated Press and U.S. Basketball Writer's Association.
He was the first UK player —and first Southeastern Conference player — to win the NABC award. Anthony Davis also won the AP, Sporting News and USBWA player of the year honors.
Tshiebwe's success has not surprised Wildcats Select AAU founder/director Tom Droney, who coached the Kentucky center during his prep career in Pennsylvania before he signed with West Virginia and eventually transferred to Kentucky.
"He was able to play his game and not look over his shoulder about making mistakes or coming out at Kentucky," Droney said. "The Kentucky coaching staff gave him a lot of confidence and he fit right in from the time he got there."
Droney was a bit surprised that Tshiebwe was so beloved by Kentucky fans.
"That was kind of amazing to see but it is just the type of person he is and the personality he has," Droney said. "He gives people his time and that resonates with fans. He is not too big to stop and take a picture or sign an autograph. He just has a way to impact fans."
Droney said Tshiebwe was a "little more shy and introverted" in high school.
"He was really dealing with the language barrier then but he's always been a kind person. His faith has been important to him from day one," Droney said. "He's just always been a special kid and now he's also a special player."
Tshiebwe emphasized that again with his comment after winning the USBWA award at the Final Four in New Orleans.
"I just give all the glory back to God because whatever is happening, it is incredible. Give all the glory back to God and thank God for everything," Tshiebwe said. "I thank my family, my coaches, my friends, my teammates, everybody helping me to get where I am today. I am very thankful for all of them. And I'm very grateful. I cannot wait to see what God, he's about to do with me."