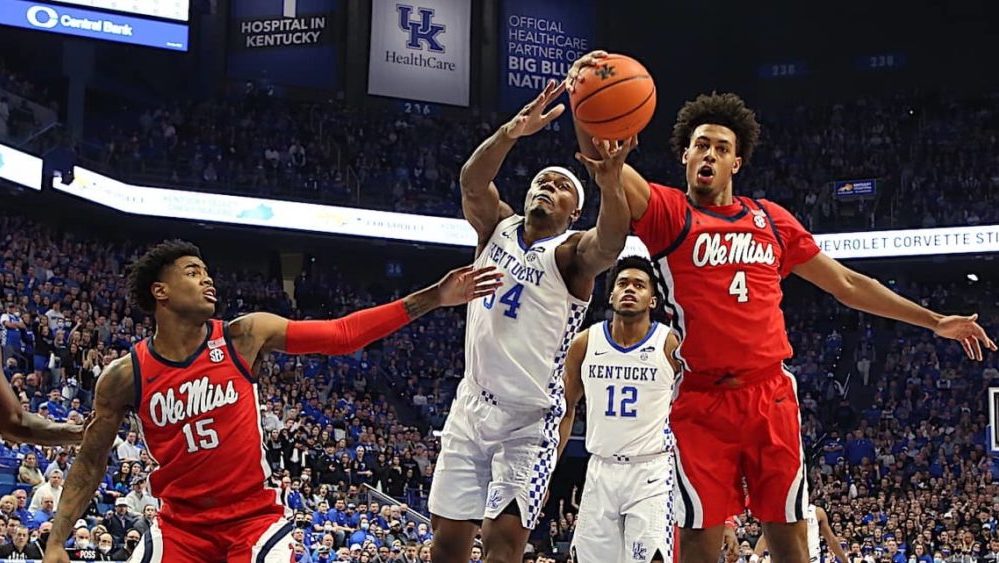 It's hard to go against Oscar Tshiebwe for the Kentucky player you believe would be most likely to get a rebound. (Photo by Vicky Graff)
Matt Sak is host of Courtside Connect Podcast and a Kentucky basketball fan. I don't know him personally but a post he had on Twitter Tuesday certainly caught my attention and I am guessing you might like it also.
Sak noted Kentucky fans "need something fun" and asked UK fans to pick one former Wildcat that you need to:
— Get a bucket.
— Get a defensive stop.
— Make a 3-pointer.
— Get a rebound.
— Make two free throws.
— Go for 30 points in a game.
Sak suggested that UK fans should pick a different player for each category and he made his picks, in order of the categories: Brandon Knight, Michael Kidd-Gilchrist, Doron Lamb, Oscar Tshiebwe, Immanuel Quickley, Malik Monk.
Another UK fan and occasional vaughtsviews.com contributor, Dustin Cordell, quickly posted his answers: John Wall, DeAndre Liggins, Doron Lamb,  Julius Randle, Tyler Herro, Malik Monk or Jamal Murray.
All their answers are great because there are no right or wrong answers here. Just your opinion and there are a lot of great choices for every category.
Hard to go wrong with Tshiebwe if you need a rebound after he pulled off rebounds like no UK player had done in over 50 years. And obviously both Sak and Cordell thought Lamb, a starter on UK's 2012 national championship team, was money from 3.
I am a "bit" older than both Sak and Cordell so I thought I just try to go back in time a bit more for my answers just to add some perspective from former UK greats.
So here we go.
Get a bucket  — Give me Melvin Turpin, one of the most under appreciated players ever to play at Kentucky. He scored 1,509 points along with 730 rebounds and 226 blocked shots. But get this — he was a career 59 percent shooter and shot a combined 60 percent from the field his last two seasons on nearly 700 shot attempts. So if I need a basket, I am throwing the ball to Turpin.
Get a defensive stop — My pick is guard Larry Johnson, one of the first African-American players to play at UK. He was at Kentucky from 1973-77, a time when steals were not really a statistic that a lot of schools kept. But he could apply relentless pressure on opposing guards. He was long, quick and athletic. Johnson did not get beat one-on-one very often.
Make a 3-pointer — This is the hardest one to go back on because there was not a 3-point line for so long. I still think Jay Shidler is perhaps the best shooter I watched at UK but Derrick Miller could also fill the basket from long range. So could Jim Master. So going back in time, I would take any of that trio to take a 3 with the game on the line.
Get a rebound — I have a split decision here with Kenny Walker and Rick Robey. No, they were not the prolific rebounder that Tshiebwe was and did not have the double-doubles like Randle. But with the game on the line and UK needing a rebound, both were terrific. Kenny "Sky" Walker could really jump out of the gym and Rick Robey was one of the toughest, most physical players to play at UK. If I needed a rebound to win a game, give me one of those two.
Make two free throws — It has to be former All-American Kyle Macy. He was an 89 percent free throw shooter in his three years at Kentucky when he made 331 of 372 free throws. His senior season he hit 91.2 percent and in UK's 1978 national championship season he hit 89.1 percent.
Go for 30 points in a game — Again this one is easy. It has to be former All-American Dan Issel, Kentucky's all-time leading scorer with 2,138 points. His senior year (1969-70) he AVERAGED 33.9 points per game and scored 948 points in 28 games. So getting 30 or more points in a game is what he did regularly.