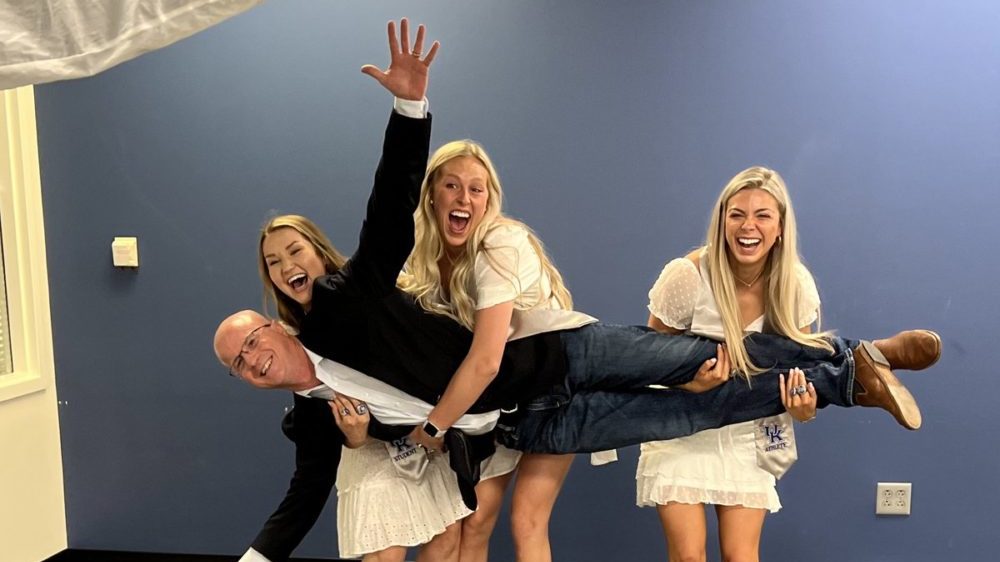 Volleyball coach Craig Skinner celebrated with his three seniors at UK's graduation. (Photo by UK Volleyball)
It's not a number that most University of Kentucky fans will remember, but they should.
Kentucky announced Thursday that for the 20th straight semester the overall grade-point average for UK athletes was above a composite 3.0 at 3.284.
"Ten years of 3.0 GPAs for our department is a remarkable achievement," UK athletics director Mitch Barnhart said in a UK release. "It's a testament to the hard work and persistence of all those involved in the academic process – primarily, of course, our student-athletes, and also to the CATS (Center for Academic and Tutorial Services) staff for their guidance, support and encouragement, along with the emphasis our coaches place on academic success."
"In many ways, the last two years have brought challenges to college athletics that have never been seen. The many issues we face have not deterred us from our core mission, to educate young people and to earn victories in the arenas of competition."
Think about this. Kentucky had 430 athletes with a GPA of 3.0 or higher, including TWENTY ONE WHO HAD A PERFECT 4.0. No, grades don't transition to conference or national championships that kind of GPA on top of 114 athletes recently going through graduation (another 21 graduated in December) is a big deal — or should be.
The NCAA's Academic Progress Rate, which also was founded in 2005, measures each team's academic eligibility, retention and graduation. Teams can receive penalties, such as practice restrictions or playing time reductions, for not reaching the benchmark score. None of UK's 23 varsity athletics teams has received a penalty in the 18-year history of the APR.
The only teams without at least a 3.0 GPA were men's basketball (2.730), women's basketball (2.969) and football (2.925) — and none of them missed by far.
Women's swimming and diving led the way with a mark of 3.754 while golf led the way for the men's scholarship players at 3.617. Some of the other top marks were 3.690, baseball; 3.627, women's soccer; 3.598, women's golf; 3.573, women's cross county; 3.533, men's cross county, 3.522, softball; 3.449, men's tennis; and 3.443, volleyball.
Women's sports had a composite GPA of 3.389 while the men had a 3.179.