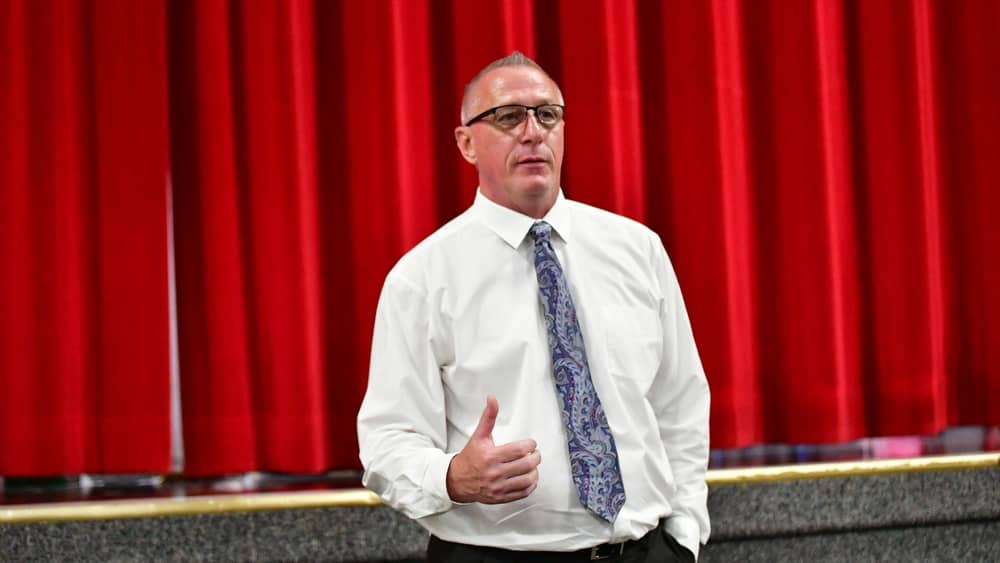 Trigg County High School has turned to a veteran coach with success in multiple regions as its next girls' basketball coach.
Greg Stephens was introduced as the Lady Wildcat head coach Friday at the school. Right after that introduction, he met with his returning players some of whom are still admittingly stung by the departure of Cory Coble last month.
Stephens said he looks forward to getting to know his new team over the next few months and assessing skill sets before predetermining a team identity.
Stephens coached the Metcalfe County girls' program last year, putting up a 20-12 record, a 16th District championship, and a semifinal appearance in the 4th Region Tournament. His team shot 40-percent from the field and 32-percent from 3-point range with four players hitting at least 20 3-pointers.
Last season, Metcalfe County beat both Crittenden County and Calloway County by four points.
Stephens coached at McLean County, at one point coaching both the boys' and girls' teams simultaneously. His girls' team was 18-11, won a district title, and advanced to the 3rd Region Tournament semifinals in 2016.  He also won a district title with McLean's boys' team in 2015.
Stephens was an assistant coach at Lexington Catholic High School under Danny Haney, whose 2002 team defeated Paducah Tilghman for the state championship. While at Lexington Catholic, he was the director of the prestigious 5th/3rd Bank Holiday Classic.
He also has coaching stops in Nevada and Florida.
The new coach has ties to Trigg County as well. His son-in-law is Dylan Sonnek, who played football at Trigg County and now coaches in Paducah. Stephens said the new gig puts him closer to his grandchildren.
Stephens has four starters returning from last year's 16-13 Lady Wildcat team, several of whom were also a part of Trigg's three straight district titles.  Coble won 82 games in six seasons as Lady Wildcat coach, including a 67-52 mark over the last four years.
Coble was named the girls' head coach at Union County in early April.
Stephens said putting together a coaching staff and completing the 2022-23 game schedule will be immediate priorities.