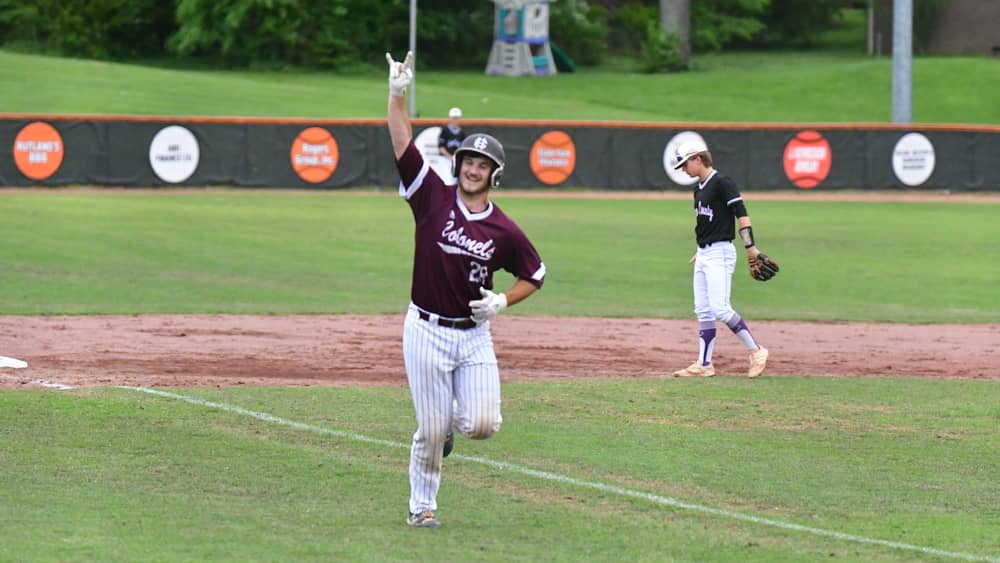 Daniel Gardner salutes the Henderson County crowd after hitting the go-ahead home run to send the Colonels to the region championship.
Coming into the fifth inning of Henderson County's region semifinal game with Lyon County, the last 14 postseason hits for the Colonels were all singles.
Then Daniel Gardner flipped the script with one swing.
The Henderson County senior hit a two-out, two-strike opposite-field home run to break a 2-2 tie and send the Colonels to the region championship.
It was a stunning turn of events as Henderson's Dru Meadows and Lyon County's Jackson Shoulders were locked up in a pitcher's duel.
Lyon County looked strong out of the gate as Gunnar Bingham led off with a walk and moved to third on a Brody Williams double. Shoulders scored a run with a sacrifice fly and Austin Spears had an RBI groundout. It would be the only runs of the game for the defending region champs.
Lefty Meadows continually pitched out of danger, helped by a flawless Colonel defense. With Lyon threatening with runners at second and third with two outs in the second inning, Wes Goldsberry snagged a line drive in center field that was destined to add to the Lyons' lead.
The Lyons stranded four runners in scoring position over the final six innings and hit into a double play.
Meadows scattered eight hits and allowed two runs while walking two and fanning three. He also helped himself at the plate with a pair of singles from the leadoff position.
Henderson County tied the game in the fourth inning when Bryce Hayden and Andrew Mills led off with singles. After a sacrifice bunt moved the runners up 90 feet, Garrett Allinder scored them both on a single to center.
Shoulders, the region athlete of the year for 2021-22, allowed seven hits and struck out nine. Six of Henderson's seven hits were singles but the homer by Gardner proved to be the biggest hit of the game.
Williams and Eli Baker each had three hits to pace the eight-hit attack for the Lyons, who see their season end with a record of 27-7.  Since the COVID-19 shutdown of 2020, the Lyons were 57-15 with two district titles, a Class A region title, two 2nd Region semifinal appearances, and the school's first region championship that culminated in a state final four appearance in 2021.
It's been an impressive two wins for Henderson County (23-10), who beat Hopkinsville ace Preston Chaudoin in the quarterfinals and Lyon's ace Shoulders in the semifinals.
Henderson County moves into the championship game for the second straight season. Lyon beat the Colonels in last year's title game to deny Henderson its first region championship since 2013.