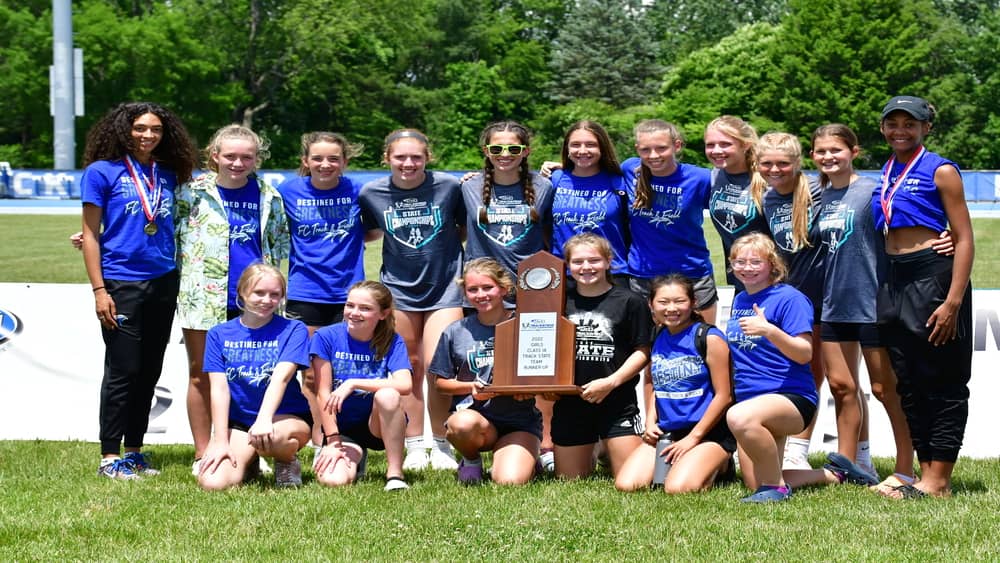 Fort Campbell finished as runner-up in the region track and field meet three weeks ago, but Thursday's runner-up trophy was much bigger.
The Lady Falcons took second place at the Clark's Pump-and-Shop Class 1A State Track and Field Championships at the University of Kentucky. It was the best finish for the Lady Falcons since winning the Class 2A state championship in 1995. It was Fort Campbell's first state title in 1A since 1982.
Fort Campbell scored 41.66 points to edge third-place Paris by 1.6 points. Bishop Brossart repeated as state champs with 104 points.
Fort Campbell's second-place finish is even more remarkable as they didn't score a single team point at last year's state meet.
Gianna Verdone, who plans to move to New York and become a model, used the UK Outdoor Facility as her own catwalk Thursday. She reached the medal podium four times, winning the 100-meter hurdles for the Lady Falcons' lone win of the day.
WATCH GIANNA VERDONE WIN THE 100-METER HURDLES
She is the first Lady Falcon to win an individual state title since Dascha Hix in the pole vault seven years ago. Verdone finished tied for second place in the high jump, was fifth in the 300-meter hurdles, and teamed with Savannah Ziegler, Natalie Winters, and Jerni Hicks to finish third in the 400-meter dash.
Pyper Sain reached the medal podium twice. In addition to her fourth-place finish on the 800-meter relay team, she tied for second in the high jump.
The Lady Falcons had two pole vaulters receive a medal. Jinny Joo was eighth and Madeline Thompson was sixth.
Eighth-grader Jerni Hicks finished ninth in the 200-meter dash, just missing the medal podium, and was 12th in the 100-meter dash
Anna Allen was 11th in the triple jump.
Meg Lubas finished in 12th place in the 1600-meter run and the 800-meter run.
Isabella Palenzuela took 16th in the 400-meter run.
Savannah Ziegler was 22nd in the long jump.
The 800-meter relay team of Pyper Sain, Natalie Winters, Jerni Hicks, and Savannah Ziegler came in fourth place in a time of 1:52.43.
The 1600-meter relay team of Kennedy Leary, Lauren Blanton, Isabella Palenzuela, and Theadora Bober-McDonald finished in 18th place.
The 3200-meter relay team of Lauren Blanton, Elizabeth Allen, Keelin Gray, and Meg Lubas finished in 20th place.