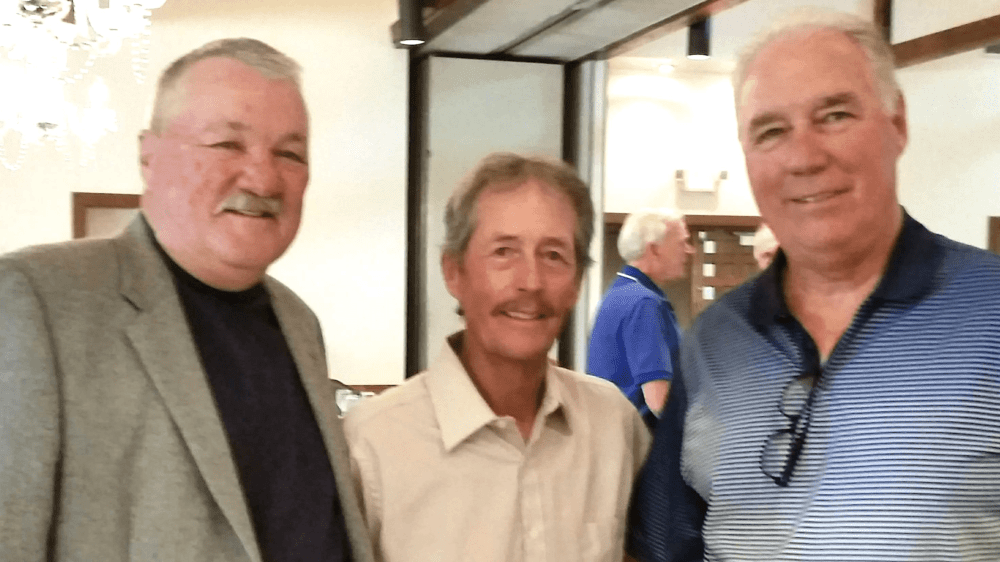 Mike Pratt, right, with former UK players Louie Dampier and Bill Busey. (Larry Vaught Photo)
Waking up today to the news that everybody's friend Mike Pratt passed away at age 73 Thursday night was simply heartbreaking.
The former UK All-American and current analyst for the UK Radio Network was a legend in Kentucky and a friend to everyone who knew him and every UK fan who listened to him call Kentucky games.
I watched Pratt play at UK from 1967-70 when he scored 1,359 points, 26th in program history, in three seasons which was remarkable considering his teammate was Dan Issel, UK's all-time leading scorer.
I don't remember the first time I met Pratt, but it did not matter. Once you knew him, you had a lifetime friend. But he was like that with everyone, not just me.
If I ever needed him to be on a radio show, he always said yes. If I needed information for a story I was writing, he was always available. When he asked me to be on his radio show, I was thrilled.
Pratt was diagnosed with colon cancer in 2019 and missed  Kentucky games at Georgia and Auburn in January of that year due to treatments he was taking. The cancer never went totally away but he never missed another UK game and just recently told me how excited he was about the upcoming season.
He joined the UK Network in 2001 and was the perfect man for the job. He had played at Kentucky and got the player's perspective. He had been a college coach, so he understood the coaching perspective. Most importantly, he understood what UK basketball meant to fans across the Bluegrass.
"I don't know a single person I have been involved with that was a better person than Mike Pratt," said Jim Host, who hired Pratt to work on the UK Radio Network, on the Leach Report today. "Mike was like a sponge. He was easy to coach and easy to make recommendations about things I felt he should be doing."
"He will be  missed. We won't realize how good he was until he's gone now. Nobody is ever going to fill his shoes. They are just going to try and fit in his shoes."
Say amen Big Blue Nation.
If you would like to share your favorite Mike Pratt memories/stories with me, please post in the comment section or email me at larryvau@gmail.com.