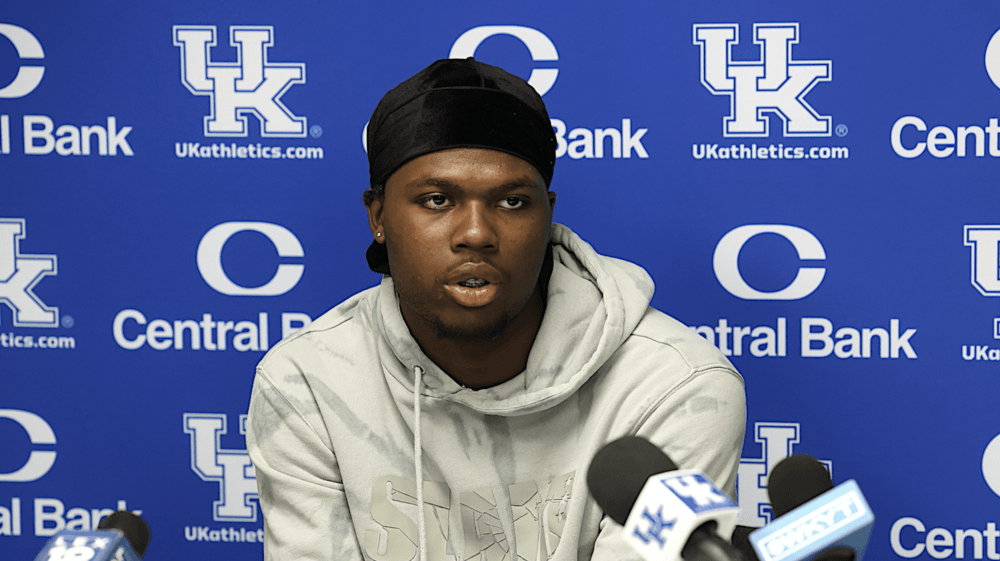 Chris Livingston said Friday he was adjusting to the workload at UK. (Vicky Graff Photo)
We've all heard just how physically imposing Kentucky freshman Chris Livingston can be and how he could be as physically ready to play college basketball as any freshman in the country.
But what does Livingston see as his role/position on John Calipari's team this year?
"Small forward or shooting guard playing off the ball," Livingston said Friday. "Probably at this level, more off the ball (than inside where he was sometimes in high school because of his size). Doing things off the pick and roll."
Not that he is downplaying his size and strength.
"I think it helps a lot. But it is not about being just big and strong. It is about being able to make your body move the way you want," he said.
He said being fast and having agility is as important as muscle mass and he's learning how to make himself faster and more agile already at UK.
He transferred to national power Oak Hill Academy last season to better prepare for collegiate basketball. He said he learned more about taking care of his body because it was "all about basketball and school" and nothing else at Oak Hill.
"More workouts per day got me prepared for Kentucky," he said.
The workload at UK is different. He was used to skill workouts but now he goes from lifting to skill work to practice and has had to learn how to take care of his body and practice the right way.
"Coach Cal is holding me accountable. He's really going to push you. He is about details," Livingston said. "He is pushing me whether we are doing drills or playing. It's just more about details than anything."