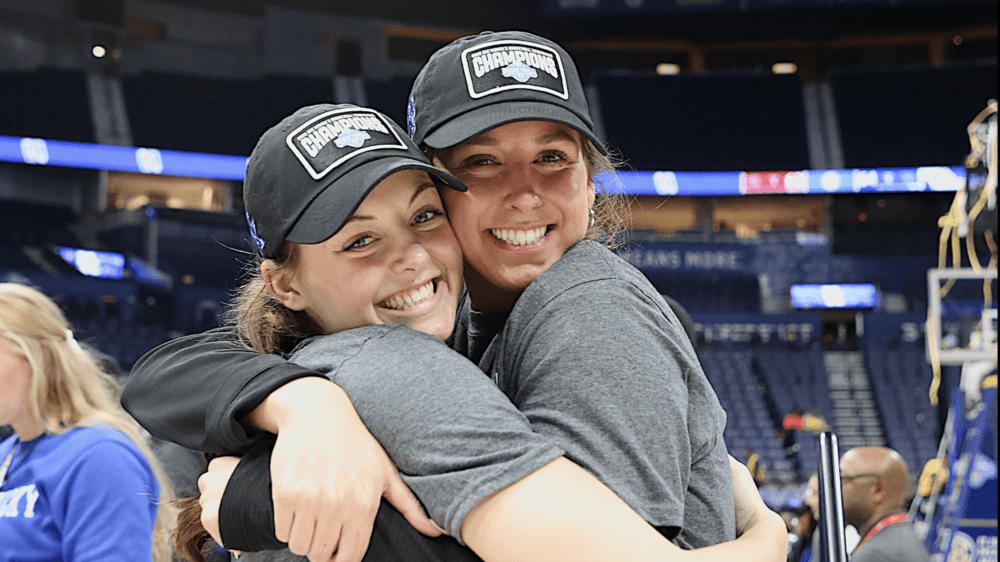 Emma King, left, and Blair Green celebrated last season when UK won the SEC Tournament title. (Vicky Graff Photo)
Kentucky lost three-time All-American Rhyne Howard, the No. 1 pick in the WNBA draft, off last year's team and coach Kyra Elzy has 10 new players on her 2022-23 roster.
Assistant coach Amber Smith knows UK's five returning players have to possibly provide even more leadership than normal and she's been impressed early by what seniors Blair Green and Emma King are doing.
"A few names stick out to me as stepping up and being more comfortable in leadership roles," said Smith. "Definitely Blair Green. She sat out last season (with an injury) and I had a similar situation when I played for coach (Matthew) Mitchell.
"Coach Elzy did the same thing for Blair that coach Mitchell did for me. She presented scouring reports and stayed involved and now she is like, 'This is my team.'
"But you have got to have other leadership to back you. Emma has impressed me. Her work ethic always impresses you. She always works. Now she has more confidence in her voice and what she tells other players."
Another strong voice is coming from sophomore point guard Jada Walker.
"It's tough to have a voice as a freshman. This past week I gave her kudos for hearing her voice," Smith said.
The Kentucky assistant said early workouts have looked good with a full 15-player squad, a big upgrade from last season when Kentucky lacked depth much of the SEC season due to injuries/suspensions.
"We are building a great culture here based on who you are as a person, how you treat people," Smith said. "The players we have are also very talented."
"This is an exciting time. There is so much opportunity for these players. Sure we are going to miss Rhyne but the focus is on the players here and we have a lot of talent. This is a completely different team. We are going to address the team the same way and our approach as a coaching staff will be the same with Rhyne gone. It gets down to X's and O's for what works for the team and we'll see how that all plays out."