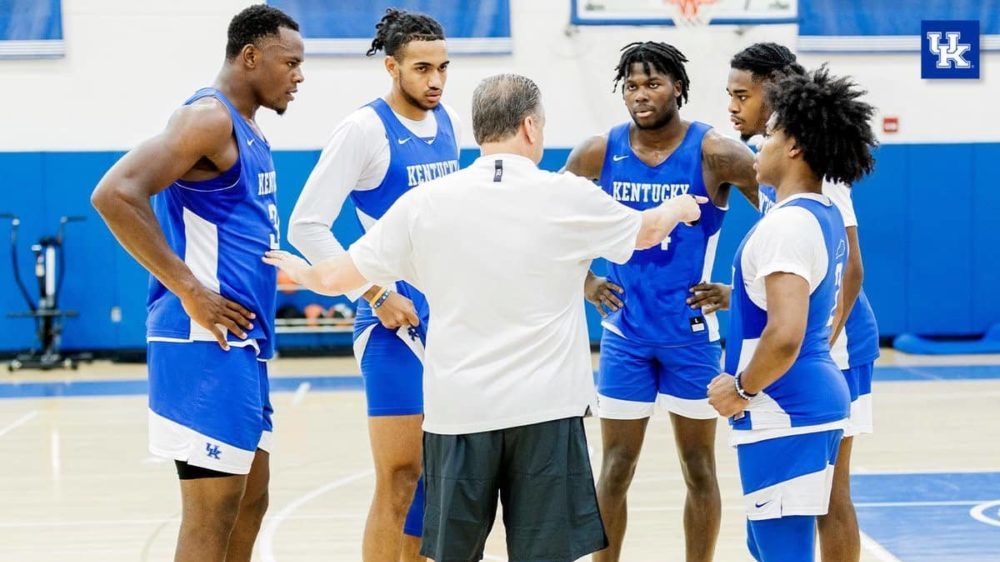 John Calipari is already excited about this year's team. (UK Athletics Photo)
Sometimes actions can say a lot more than words or at least justify what words are being said.
I think that is what Kentucky basketball coach John Calipari, his staff and his players have been doing this week on the Kroger tour to raise resources for western Kentucky tornado victims.
"They don't feel entitled like someone is going to do it for them," Calipari said at one tour stop. "You know it when you go to Kentucky — I don't have a magic wand, I can't make you do it. I can put you in a culture that does two things: develop players — done that my whole career — but the other part of it is, you've got to also build the team."
"You can't just develop the players, because they've also got to play the games. Building a team has also been a part of our culture. The third part is, building kind hearts, which gets them to become good teammates."
They seem to be embracing the good teammate part again just like last year's team did. Never question Oscar Tshiebwe's heart or soul. I was in London and watched freshmen Cason Wallace and Chris Livingston interact with fans. I saw Sahvir Wheeler do it during his basketball camp at Boyle County High School.
"They learn how to share, there are other good players. They weren't told, 'You're going to shoot every ball, you're going to start and play 30 minutes.' This is, 'You're going to have to be with other really good players.' I'm excited about the group," Calipari said.
That excitement seems to be carrying over to recruiting where Calipari could be on the verge of a humongous recruiting haul. He's been rejuvenated on the recruiting trail and that excitement has also carried over to his interactions with fans on the Kroger tour.
"I enjoy being in the gym with them. The enjoyment I get is when I walk in that gym and I get to work with guys. … If they don't become a team, they can't do all of the things they're trying to have done. This gives me a chance to do more individual development — we're as good as anyone in the country with that," Calipari said.