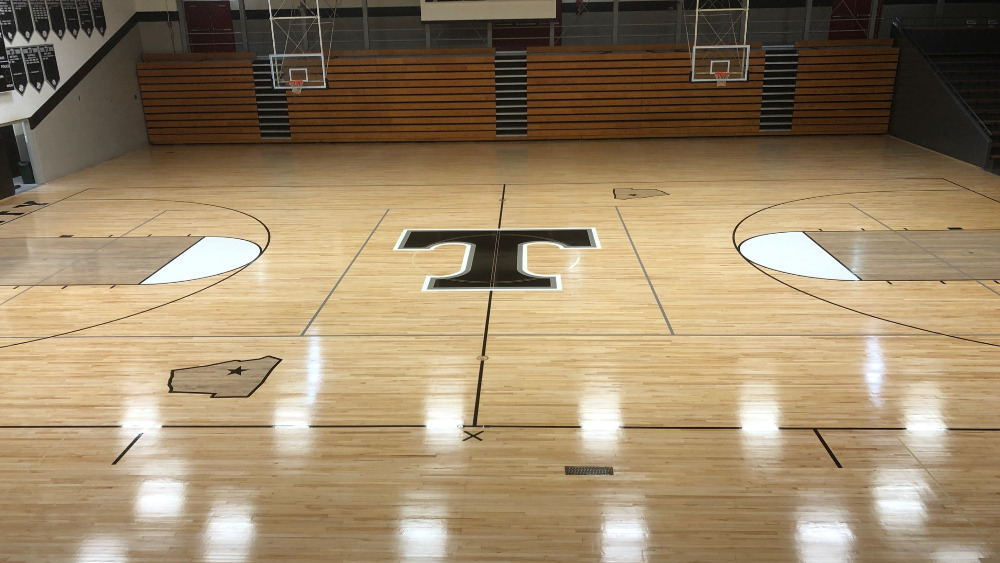 One of the oldest high school gym floors in western Kentucky will have a new look for the 2022-23 sports season.
The new floor design of Trigg County's Wildcat Gym was unveiled this week. The new design is less busy than the old three-color design that was created in the mid-1990s. Gone are the black end zones and sidelines. Also gone are the paw prints and the word 'Wildcats' at center court.
The work was completed by Tommy Middleton of McHenry, Kentucky, a general contractor with experience in sanding, refinishing, and painting gym floors.
The first noticeable change with the floor is the lighter shade of stain, which gives off the impression of more light on the floor surface.
At center court is a black 'Power T' design which has been adopted as the Trigg County athletic logo in recent years.
On each side of the floor near midcourt, there is a two-shaded design of Trigg County with a star indicating the location of the school.
The end zones still have the words 'Trigg County' at one end and 'Wildcats' at the other.
The free throw lanes are also two-shaded with the top of the key painted white.
The floor also has the proper markings for volleyball and archery.
The gymnasium was built in 1962 after the school burned two years earlier. While the facility has seen modest upgrades in the past including better lighting, new scoreboards, and new bleachers, the original floor has remained intact. In fact, it's one of the oldest floors, if not the oldest floor, still in use at the high school level west of Bowling Green.
Athletic Director Matt Wilder said Middleton advised him the original gym floor was still in great shape and could endure another 'sanding or two' in the future.