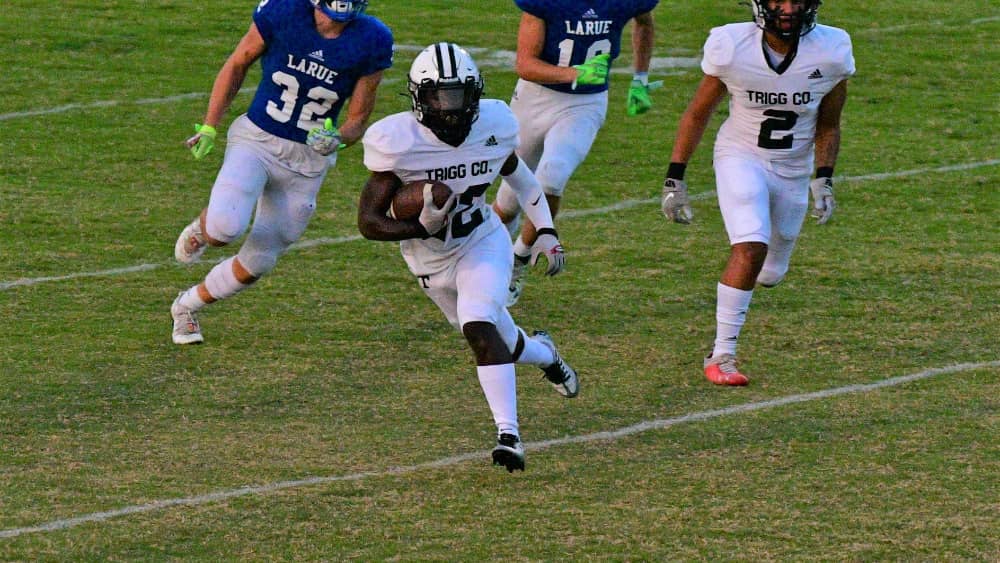 DISCLAIMER: I have been the official statistician for Trigg County football for nearly 30 years. I let the coaches track and record tackles on defense while I handle the offense.
Trigg County traveled to Larue County Friday and defeated the Hawks 44-30. The game featured an incredible rushing night from Trigg County senior Kelsey Parham. Playing near the birthplace of Abraham Lincoln, Parham had a Lincoln of his own — four scores.
By the end of the night, I had Parham with 26 carries for 306 yards, which equals the Trigg County single-game mark set by Al Baker in a 1984 win over Marshall County. Ironically, Baker would have had nearly 350 yards but had a long touchdown run called back on a penalty.
Because there was a potential school record at stake, I went to the game film to verify Parham's yardage total.  25 of the 26 carries matched my real-time stat keeping. The only difference was a carry near the end of the third quarter. A 37-yard pass play from Jacob Wease to Jhaden Vaughn went from the Trigg 43-yard line to the LaRue County 20. On the next play, Parham ran for seven yards to the 13-yard line. However, the game film showed the ball spotted at the 21-yard line after Vaughn's catch. Parham's run to the 13-yard line was for eight yards and not the seven recorded on my sheet.
After further review, Parham ran for 307 yards on 26 carries and holds the top spot in the Wildcat record book. Parham and Baker are the only two Wildcats to rush for 300 yards in one game.
It's not the first time I've gone to the tape to double-check for school records. I've done so at least a dozen times for basketball where rebounds, assists, and steals were concerned, and even once in soccer to determine if an assist record had been broken.
I didn't see Al's 306-yard performance. I was blessed to see Kelsey's on Friday.
— Scott Brown