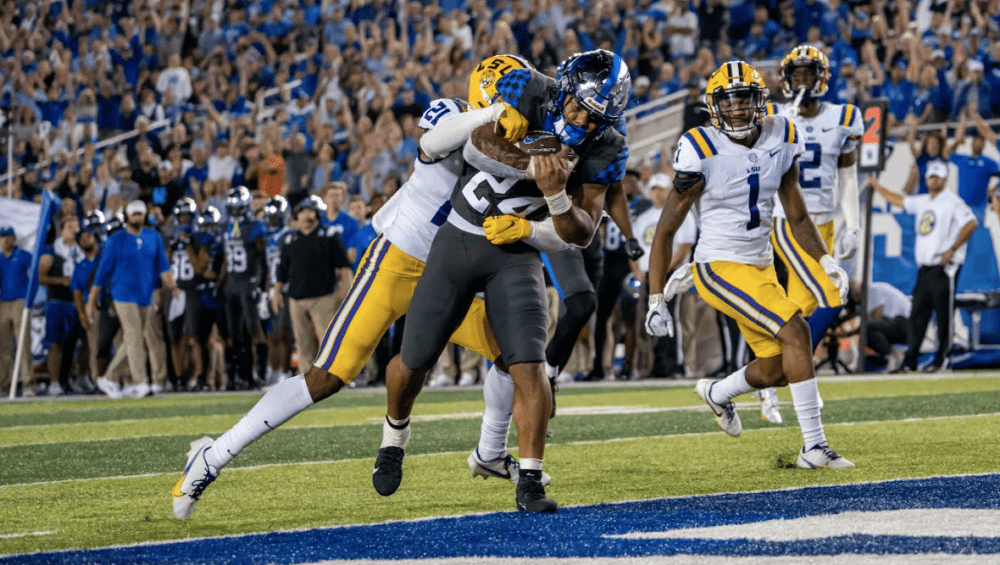 Chris Rodriguez has the skills to be a "really good NFL running back," according to UK offensive coordinator Rich Scangarello. (Vicky Graff Photo)
Offensive coordinator Rich Scangarello certainly is not trying to downplay what it will mean to Kentucky's offense to have running back Chris Rodriguez able to play Saturday at Mississippi after he missed the first four games due to a suspension.
"He's special. C-Rod, I mean, you just don't do what he did last year. I see it every day in practice," Scangarello said. "He's a difference maker, difference makers are what they are, and I think that just provides you something different and I'm excited to get him back."
"I think it'll be a shot to everyone and you know, he's arguably as good as any back in the SEC." 
Rodriguez might even have an edge with "fresh legs" for the final eight regular-season games since his only action has been in practice. He's not been subjected to the heavy hits he normally takes during games.
"He's not been taken to the ground in a month," Scangarello said. "I am not worried about that. He has been very reliable, very durable. He is in great shape. He is such a good guy, good player and makes us so much better. His whole persona… the way he carries himself. He's a veteran in this league."
Scangarello says Rodriguez will help UK's offensive line.
"He ran for a lot of yards because he is not going to go down on (first) contact," the UK offensive coordinator said. "That's why he will be a really good NFL running back."
"There are special gift runners have in a zone system. There is a patience, not a panic. I am excited to see what it looks like (with Rodriguez)."
He's also excited to see how having Rodriguez helps the passing attack because of his receiving skills and how the offense can be more diversified with both Rodriguez and JuThan McClain healthy and available in the backfield.
"He has handled things (suspensions) well in a very difficult situation," Scangarello said. "Mentally he has taken himself to where he needs to go."