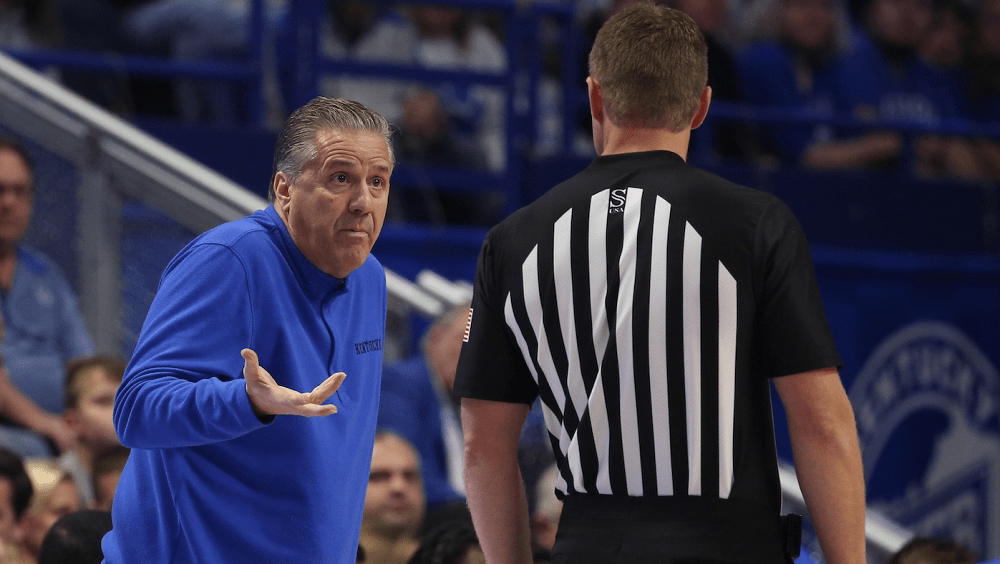 John Calipari will have his team at his house to eat tonight and then take them to serve others. (Vicky Graff Photo)
John Calipari was thankful for a lot more than just a 40-point win over North Florida Wednesday.
One of his daughters, Megan, was born on Thanksgiving day.
"Things that have happened for me and my family, I'm thankful," the Kentucky coach said after the win.
"How about the opportunity to coach here and be a part of what this goes on and be here for our fans, who are the greatest. They're engaged. I get a chance to do that. So I'm thankful for all that too.
"I would tell everybody, if anybody's, you're writing this or you're listening, reach out to somebody who you know may be by themselves. Invite 'em to your house. Maybe somebody that's older, maybe a widow. Maybe somebody that's moved to town and they're here by themselves. Invite 'em to the house. Bring them food and spend some time with 'em. I mean, it's a great time."
He's right about that. Two churches where I live deliver Thanksgiving meals to anyone who requests a meal. One did it Sunday and another one is doing it today. My mother appreciates the food but loves seeing the folks who deliver the food to her. Honestly, if they didn't bring any food but just visited a few minutes she would be just as thankful.
"I think for all of us, that's why we do stuff at Thanksgiving. I want these kids (players) to feel it, what it is, and the appreciation of people. And only by the grace of God we're not here trying to eat. Only by the grace of God. I mean, I didn't grow up in an Ivy League, you know. I mean, how did I bust through and do this? By the grace of God," Calipari said.
"So seeing all this stuff, knowing — you know, I'll just say one thing. Every year I'm hoping it's going to be easy. And at some point, it is not easy. This stuff is really hard. Thanksgiving's coming at a great time. Be thankful. Yeah, it's hard. If it were easy, everybody would do it. It's hard.
"Looking forward to tomorrow to be with the kids and do some of the stuff we're going to do."