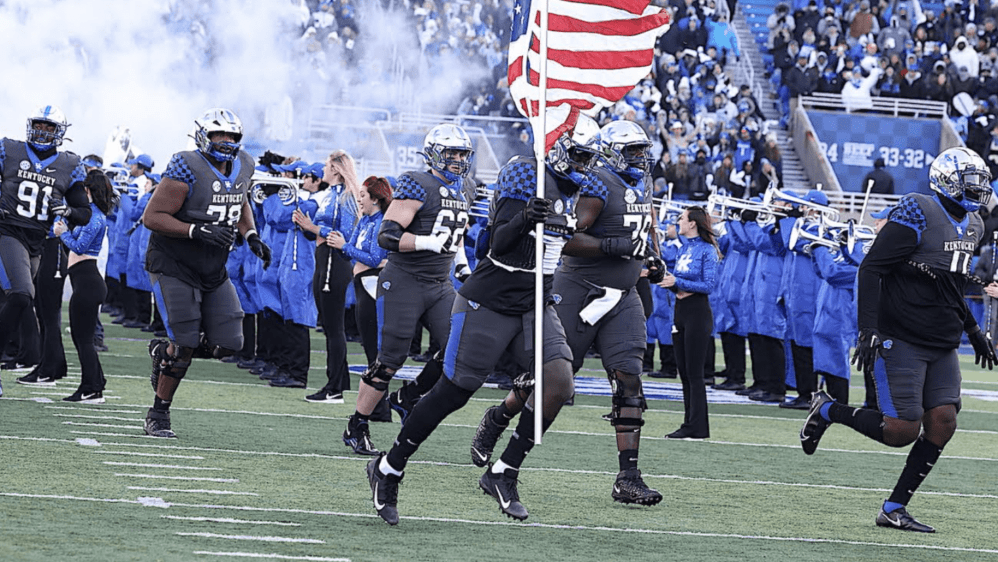 Coach Mark Stoops wants expectations high for his team. (Vicky Graff Photo)
Win or lose against Louisville, Kentucky will be going to another bowl game.
Beating Louisville and finishing 7-5 won't send Kentucky to a New Year's Day bowl but it will get a better bowl berth than if it finishes 6-6. However, coach Mark Stoops wants a win to finish a disappointing regular season on a high note, especially against rival Louisville.
"It's a different era. It's different times and things are changing fast with this landscape. For me, I think it's very important to win the last game and it's important to win the bowl game," Stoops said. "It sets the tone for the whole offseason and the morale of your team.
"And so, it's a big game. It's a rivalry. I think Louisville is playing very, very good. I know they're much more confident probably this year than they've been with the way they're playing and the way in some of the games we've had. We have to be prepared and ready to go."
Kentucky won 10 games in 2018 and 2021, something UK football has done only a few times. Many thought Kentucky had a great chance to win 10 games again this year. The Cats could still win eight games, but most fans are not overly excited about that.
Stoops is fine with the expectations being raised for his team.
"I can handle the criticism and I want expectations high. It's just like we asked that question earlier about how I handle preseason hype. I'm not hyping it up. I'm not going to talk bad about my team. Why would I do that?" Stoops said.
I believe in them. I love them. I love the way they work and prepare and play for each other. I'm not going to — I mean, again, if I say, yeah, I want to be 10-2, am I giving up on two? That's my philosophy. I don't give up on any of them. I understand. I'm a big boy. I can handle people wanting more. I want more, too."