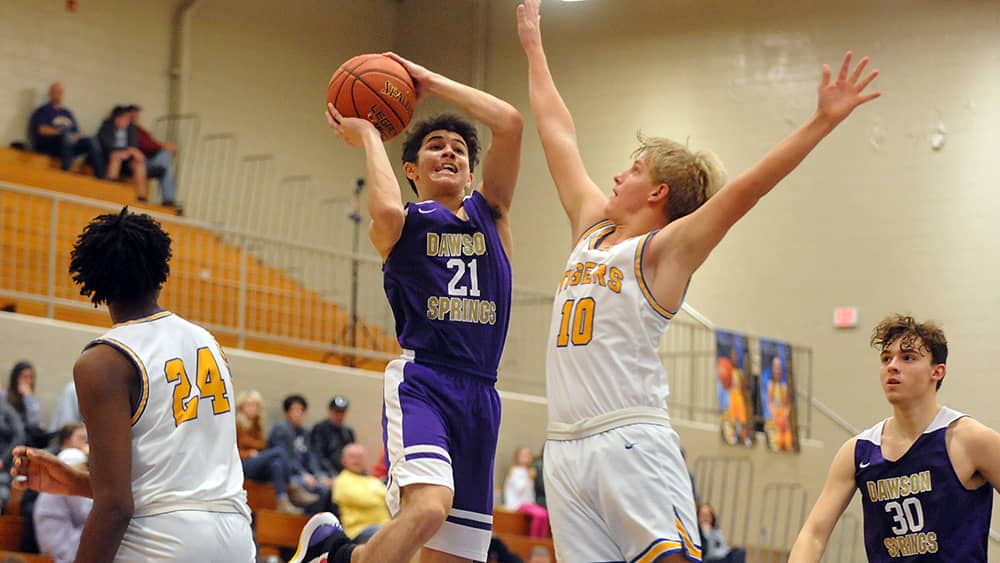 Wins against Caldwell County have been few and far between for Dawson Springs in recent years.
But the Panthers got one Friday night, defeating the Tigers 55-53 in 7th District action at the CAB gym in Princeton.
It was Dawson's first win over Caldwell in nearly six years. The Tigers had won the last 12 meetings and 26 of the previous 27 matchups.
The Panthers' last win had been a 70-67 decision on Jan. 3, 2017, in Princeton.
Caldwell, which leads the all-time series 96-44, got off to a strong start in the most-recent matchup.
The Tigers ran out to a 16-5 lead late in the first quarter and still led by as much as 10 points, 20-10, early in the second period.
But a 12-2 burst allowed Dawson Springs to tie the game before a 3-pointer by Ryan Hammett helped Caldwell get to the break with a 27-24 advantage.
The Tigers (0-5 overall, 0-1 district) tried to fend off the Panthers throughout the third quarter and still led 35-31 following a bucket from inside by Zavy Bumphus with 2:06 left in the frame.
But Dawson (2-5, 1-1) scored 15 of the next 17 points to grab the upper hand.
A steal and layup by Montgomery Johnston pushed the Panthers in front 36-35 through three quarters.
Back-to-back 3-pointers by Rex Blue gave Dawson its largest lead at 46-37 with 4:41 left in the contest.
Caldwell scrambled to get back in the game, and cut the gap to 52-50 when Demaurius Thompson scored on a stickback, then Collin Whittington stole the inbounds pass and quickly scored again with still 1:08 to play.
Johnston hit two free throws at the 0:44 mark to make it a four-point game.
But Caldwell got the ball inside to Thompson, who scored and was fouled. He completed the three-point trip to get the Tigers as close as 54-53 with 36 seconds left.
Caldwell got the ball back following a Dawson turnover, but could not convert from inside late in the game.
Casey Fain rebounded for the Panthers and was fouled with 2.9 seconds to go.
He made his first free throw but missed the second.
Caldwell, out of timeouts, grabbed the rebound and got a shot off from near midcourt, but it came up short as the final horn sounded.
Blue had a game-high 25 points and grabbed eight rebounds to lead Dawson Springs while Johnston had 17 points.
Caldwell got 18 points, nine rebounds and four blocked shots from JayDarius Wilson. Bumphus had 13 points while Thompson added 11 points and seven boards.
The two teams will meet again Jan. 20 in Dawson Springs.
The Panthers have another district game on Monday when they go to Madisonville-North Hopkins.
The Tigers will visit Livingston Central on Monday.
Dawson Springs   8   16   12   19 — 55
Caldwell County  16   11   8   18— 53
Dawson Springs (2-5, 1-1)—Blue 25, Johnston 17, Plunkette 9, Thomas 3, Fain 1.
Caldwell County (0-5, 0-1)—Wilson 18, Bumphus 13, Thompson 11, Hammett 6, Whittington 5.