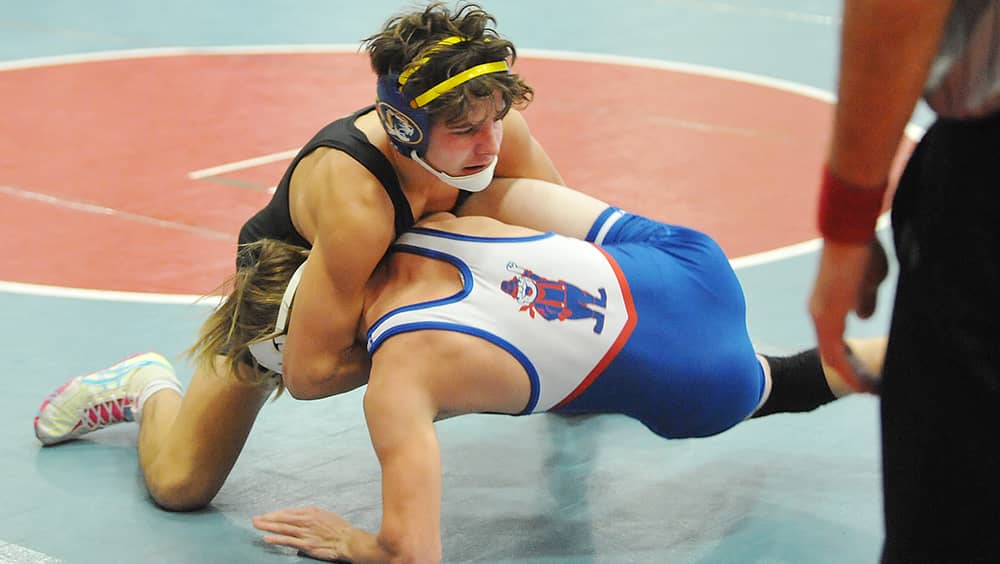 Logan Brown highlighted Caldwell County's trip to the prestigious Johnny Drennan Invitational at Father Ryan High School in Nashville.
Brown captured seventh place to medal in the 120-pound weight class.
Brown went 4-2 in action Friday and Saturday.
Brown won his first two matches by pin before being pinned in the tournament quarterfinals. He came back to win by pin in the consolation bracket before dropping an 8-3 decision in his next match.
That put Brown in the seventh-place match, where he pinned Henry Ribble of Fairview in 2:28.
In other action for Caldwell:
Justin Klidzejs was 2-2 at 106, recording two pins.
Andre Carter was 3-2 at 113 pounds.
Colin Teutsch went 4-2 at 126. He won his first two matches before suffering a 14-4 setback. He came back to win twice in the consolation bracket before being decisioned 9-4 in his final match.
Cofy Walls was 4-2 at 132. After dropping a 9-5 decision in his first match, Walls picked up four straight wins by decision before suffering a 10-1 loss.
At 138, Timothy Nichols went 3-2. Nichols dropped a tight 12-11 decision in his opener, but came back to win three straight matches in the consolation rounds. Nichols was pinned in his last match.
Bradley Peters dropped both of his matches at 145.
Aiden Asher dropped two matches at heavyweight.
Caldwell, which had a few wrestlers out of action this weekend. finished 28th in the team standings out of 54 schools in the event.
Union County won the team championship with 215.5 points. Host Father Ryan was runner-up with 209.
The tournament featured teams from five states — Tennessee, Alabama, South Carolina, Wisconsin and Kentucky. The event is one of the oldest high school wrestling tournaments in the Volunteer State.
Next up for the Tigers is the Commando Crush next Saturday at Hendersonville, Tennessee.