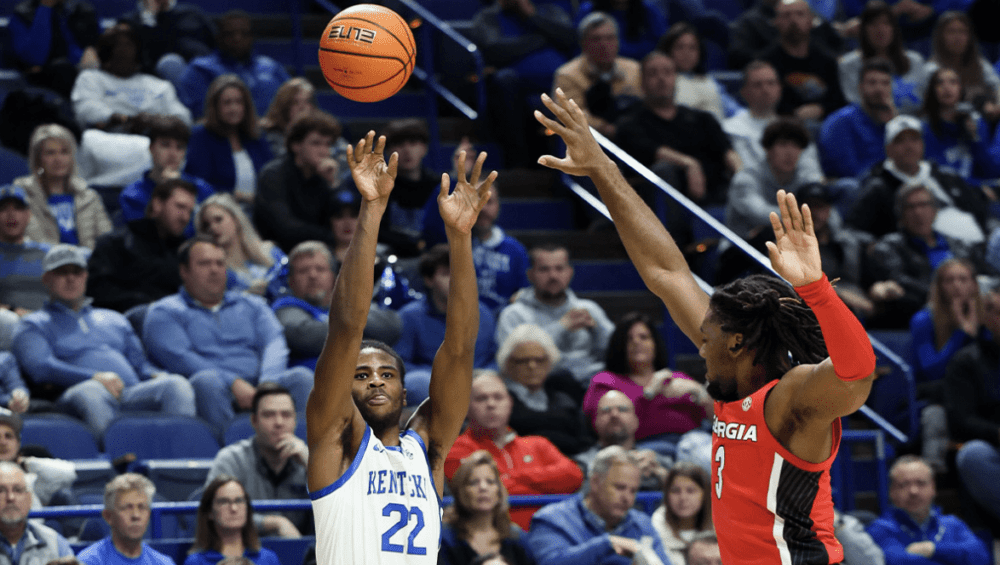 UK Athletics Photo
Oscar Tshiebwe was a man's man at a time when Kentucky needed to be as he dominated the start of the second half to spark a UK comeback and 85-71 victory over Georgia in Rupp Arena Tuesday night.
Tshiebwe had 37 points on 12-for-20 shooting from the field and 13-for-18 from the foul line to go with 24 rebounds, three steals, one rebound and one assist in 38 minutes. He also did not have a turnover.
However, that's not the biggest storyline of the game. No, that was perhaps the passing of the point guard torch from senior Sahvir Wheeler to freshman Cason Wallace.
Wheeler did not play due to an injury Saturday when UK stunned No. 5 Tennessee. He played 10 minutes in the first half and UK trailed 42-34. He played only one minute in the second half — and made a costly turnover — and the Cats outscored Georgia 51-29.
Case closed. Maybe even though UK coach John Calipari can be extremely loyal. However, UK's season was teetering on the brink again Tuesday when the coach knew he had to play Wallace and sit Wheeler in the second half.
Wallace had 11 of his 17 points in the second half and, more importantly, he found a way to stop his man from just driving straight to the basket. He was not perfect on defense, but he was far better than any other UK guard, including Wheeler.
Wallace also committed just one turnover in 28 minutes and did not have one while playing almost 20 minutes the second half.
"That is what you thought Wallace would be this year is that physical, scoring guard," ESPN analyst Jimmy Dykes said late in the game.
Wallace combined with guards Antonio Reeves and CJ Fredrick the second half along with power forward Jacob Toppin and  Tshiebwe at center.
Dykes is a believer in that lineup like many UK fans have been. For unknown reasons, Calipari had barely played that five some together until UK won at Knoxville. The lineup is productive offensively and has also shown it can thrive defensively.
"Those five guys there, that is Kentucky's team going forward," Dykes said. "They are big, physical and they are playing well together."
That's because Reeves and Fredrick give UK two legitimate 3-point threats on the wing and Wallace can drive, hit a 3-pointer and distribute. He also never seems to panic and get the ball stuck in his hands late in possessions like Wheeler does.
That combination makes it harder for teams to converge on Tshiebwe — even if Fredrick was just 1-for-8 — and Tshiebwe showed what can happen when a team tries to play him straight up like Georgia did.
"Kentucky has found its groove," Dykes said. "Tshiebwe has his edge back and Fredrick is the vocal leader. I am not going to say they are going to take Alabama down but they are going to work their way back into the NCAA Tournament."
I think he could be right now that Calipari seems to understand what his best lineup could be. That does not mean Wheeler will never play again, but the games with him playing 30 or more minutes should be over and that hopefully is clear to both the player and coach now.