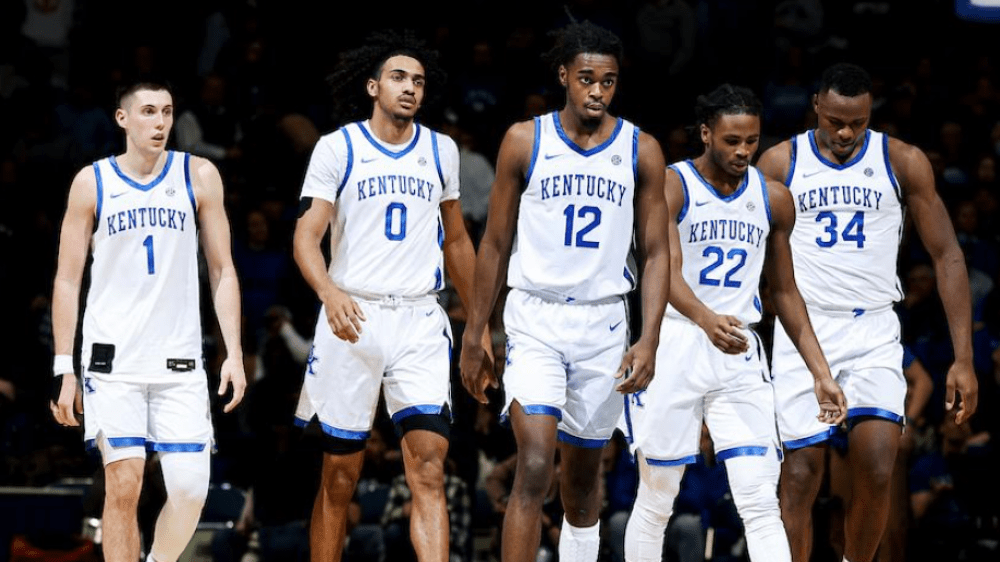 These five players are plus 42 points in 72 possessions in UK's last three games, all Kentucky victories. (UK Athletics Photo)
The numbers continue to support the "Basketball Benny lineup" that Kentucky fans were clamoring to see long before Kentucky coach John Calipari was willing to use it.
With the Cats struggling earlier this season, fans wanted Calipari to let freshman Cason Wallace take over at point guard for Sahvir Wheeler and play the team's best shooters, CJ Fredrick and Antonio Reeves, along with Jacob Toppin and All-American Oscar Tshiebwe.
Calipari has barely used that lineup together before being forced to go that route at Tennessee when Wheeler was hurt and did not play. Kentucky stunned No. 5 Tennessee in that game with that lineup plus 15 points in 24 possessions.
That really got fans buzzing about the "Basketball Benny lineup" — a reference to Calipari often referred to a UK fan as a Basketball Benny — and what it could do.
According to Sean Vinsel of Hoops Insight, that fivesome was plus 13 in 22 possessions against Georgia and plus 14 in 27 possessions against Texas A&M.
"Across the three games, this group is plus 42 in 72 possessions. Kentucky does not have a single other lineup that has posted better than plus seven and only three lineups better than plus two," Vinsel wrote in his weekly UK newsletter for HoopsInsight.com.
He pointed out several interesting statistics about this group:
— They are turning the ball over on just 14 percent of their possessions, or about one out of seven possessions.
— Opponents are hitting just 15 percent from 3 against this lineup.
— This lineup is getting 86 percent of the opponent's missed shots and 44 percent of its own missed shots. They have got 20 points off 17 offensive rebounds compared to four offensive rebound points for opponents.
— This group has attempted 37 free throws to just 19 for the opponents.
Texas A&M coach Buzz Williams talked about how different UK had been against Tennessee and Georgia mainly because of the Basketball Benny Lineup.
Will Calipari keep using that lineup? I think so based on what he did in the second halves against Georgia and Texas A&M. Calipari may never admit fans were right, but he wants to win and even the coach seems to understand the Basketball Benny Lineup gives UK the best chance to win.