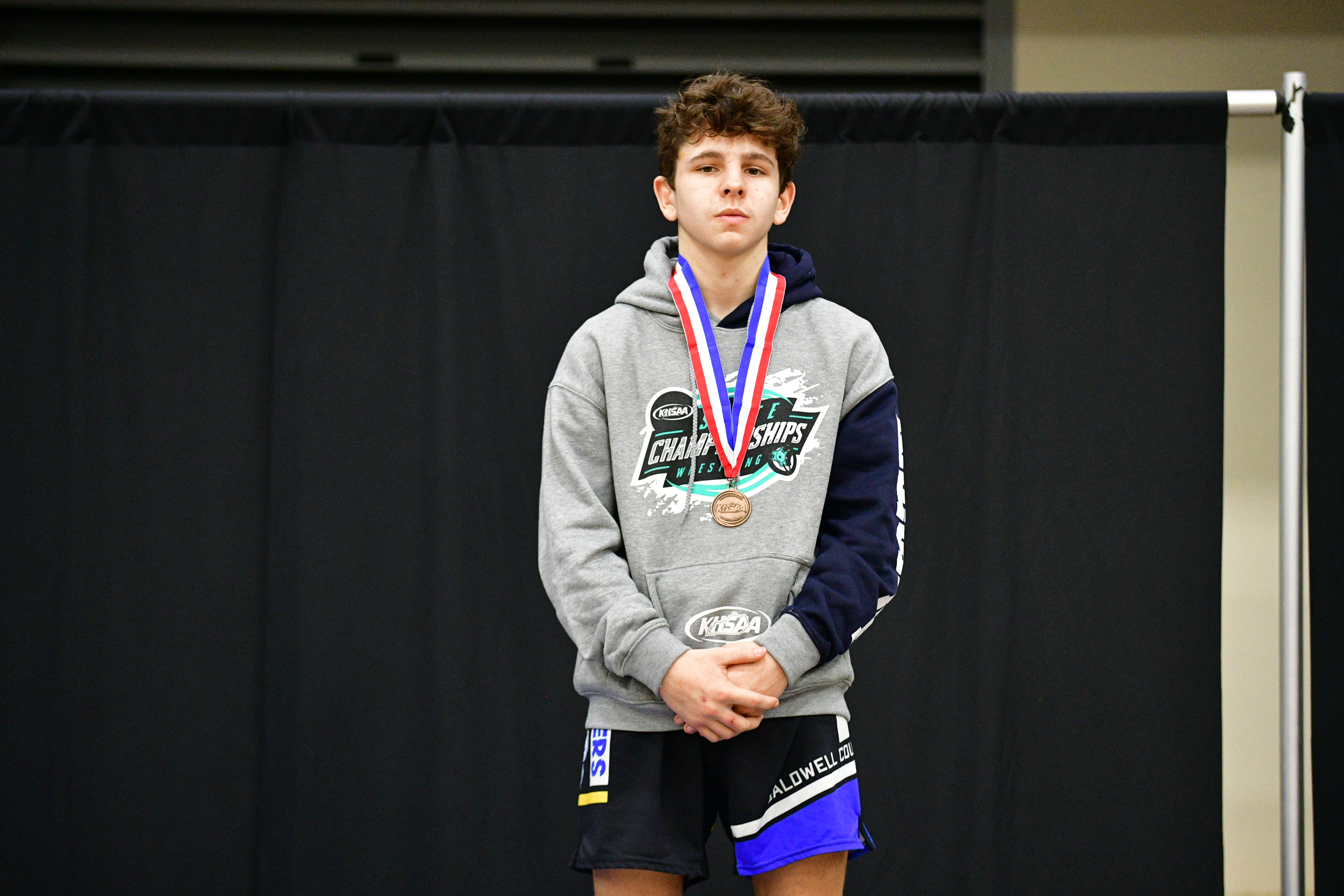 Logan Brown produced the best finish for Caldwell County at the KHSAA State Wrestling Tournament over the weekend at George Rogers Clark High School.
The Tiger sophomore entered the weekend ranked No. 7 in the 120-pound class by KentuckyWrestling.com, proving that ranking true with a seventh-place finish.
Brown was one of five Caldwell County wrestlers to advance to the state championship weekend and the only one to reach the medal podium.
Brown opened Friday with an 11-1 major decision over Campbell County's Jeremiah Wilbers, the No. 15 wrestler in the class.
In the quarterfinals, Brown lost a tough 5-4 decision to John Hardin's Amari Hardin, who entered the match with a 66-2 record and a No. 3 ranking in the class.
Brown bounced back in the consolation round to beat Great Crossing's Trent Cano (No. 9) 4-0 before a 3-2 loss to Simon Kenton's Jonah McClusky (No. 6) sent him to the seventh-place match.
Brown defeated No. 8 Nico Plumeri of Trinity by a 6-1 decision to reach the podium.
At 126, No. 19 Colin Teutsch was victorious in one of his three matches. Teutsch opened with a 6-5 loss to Boyle County's Micah Thompson (No. 5). He rebounded with an 11-2 victory over No. 20 Andrew Pomeroy of Male. Teutsch saw his season and career end in his third match with a 10-1 loss to No. 6 Seth Page of Ryle.
The senior finished the season with a 50-13 record. Teutsch concludes his Tiger wrestling career with a pair of sixth-place finishes at state.
In the 106-pound class, No. 11 Justin Klidzejs qualified for his first state tournament. He dropped his opener to No. 2 George Dennis of Harrison County by technical fall. His tournament ended in the consolation round with a loss to No. 7 Jake Ramsey of Apollo. He finished his freshman season with a 35-17 record.
Cofy Walls (No. 6) competed in the 132-pound class and entered the tourney ranked No. 6 in the state. He opened with a 4-3 loss to No. 8 Colin Tucker of Wayne County. Walls advanced with a forfeit in the consolation and then dropped a 9-6 decision to No. 7 Hunter Luttrell of Fairdale.
The junior posted a 53-10 record this season.
Cole Sherrill had a tough opening day Friday. The Tiger junior entered the weekend ranked No. 5 in the 215-pound class. He dropped his opener to No. 11 Caleb Mpungu of Frederick Douglass. Sherrill suffered an injury in the match and was forced to forfeit his consolation match to No. 14 Joaquin Solis of Great Crossing.
Sherrill finished with a 40-9 record this season.