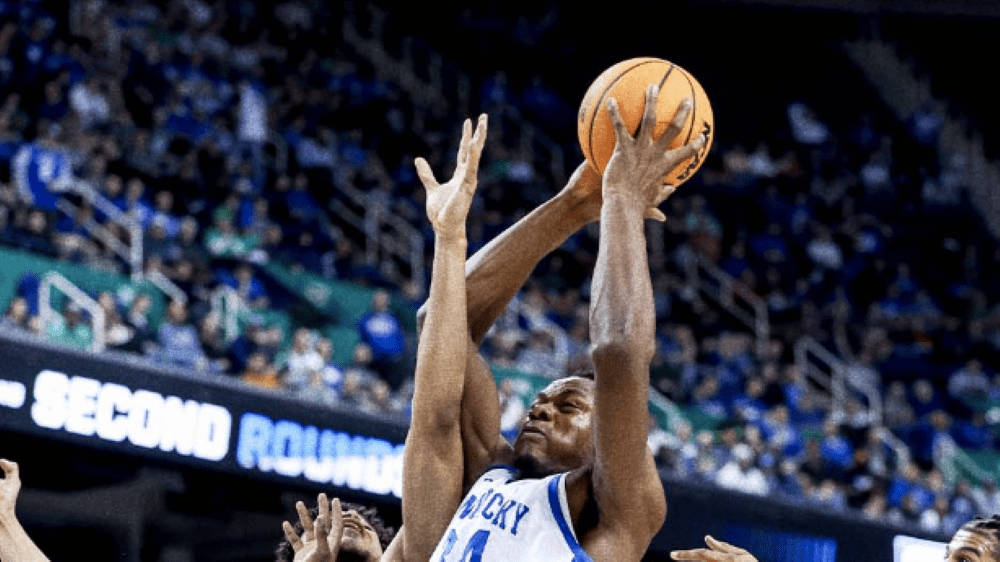 UK Athletics Photo
Just when you think Oscar Tshiebwe cannot do anything else that might surprise you, he does it.
No way any player can grab 25 rebounds in a NCAA Tournament? Tshiebwe did to break the school record of 24 set by Jerry Bird in 1956.
He had 25 rebounds, including 11 offensive boards, in Friday's 61-53 win over Providence. He had seven rebounds in the first four minutes. The Friars simply could not keep him off the glass.
"It's such a valuable asset to have a big guy like that," CBS-TV national analyst Clark Kellogg said. "He is a ferocious glass eater. He has an excellent nose for the ball and pursuing it."
Tshiebwe said he had an "off" offensive night. He was 4-for-10 from the field and had eight points in his 33 minutes. But he also had three steals, two blocks and two assists in his "off" night.
"I told all my teammates, I told them, I said this year we come in and fight. Last year doesn't matter anymore. Now you know this tournament is about fighting. It's about who fights the most," Tshiebwe said.
"That's the one who is going to keep moving. So we came in with the mentality, and we forget the past, and we're just fighting right now."
No one fought more than Tshiebwe. Like other teams have been doing, Providence tried to be as physical as it could with Tshiebwe. It didn't matter. He just ignored the contact, kept his cool and dominated the rebounding.
Kentucky coach John Calipari wondered in his postgame press conference how many times a player had grabbed 25 rebounds in a NCAA game. Calipari was told it was the first time it had happened since 1970.
"That can't be right (it wasn't because it actually the most since Phil Hubbard of Michigan had 26 in 1977). You know, that's how old — when I watched 'The Walton's,' that's how old that is, so it's about that old. I would tell you that he did something that hadn't been done for 50 years," Calipari said.
"And he is the greatest kid. He didn't pass one to Jacob (Toppin). We got on him. He looked and said, 'I'm good. My fault.'"
That describes Tshiebwe perfectly. He's a pleaser — or wants to be — and that cannot be easy considering the contact he takes almost every game.
"He gets held, grabbed, hold, and they call him for pushing off. He said one time this year he just had enough, but I've just enjoyed the heck out of coaching him and seeing him grow as a person, seeing him grow as a basketball player," Calipari said.
"But this one, I don't think it was — if in this tournament winning is a relief, what the heck are you doing here? This is joy."
However, Calipari couldn't resist a little extra motivation for Tshiebwe going into Sunday's second round game.
"Defensively when he is alert and bouncing, he is really good. When he stands behind the defender, he is not really that good in there," Calipari said. "They just turn and score on him. I don't know why he chooses to do that because the other guy is really good, but there are times he stops.
"I'm probably playing him too many minutes. And then he only scored eight points."
Providence center Ed Croswell didn't see any flaws in Tshiebwe's play.
"I mean, he just gets the ball, man. He is a world class rebounder. You have to box that guy out. Two, three people. He really displayed his dominance on the board today," Croswell said.
Providence coach Ed Cooley reminded media members this was not the first 20-plus rebound game for Tshiebwe.
"He is an elite… He was the National Player of the Year for a reason, and his defensive and offensive rebounding was probably the number one reason why he was awarded that last year. He is very quick to the ball. He has a knack for the ball," Cooley said.
"Sometimes you just have an 'it,' ala Dennis Rodman, Ben Wallace. Those guys just have an 'it' for it. Some guys have an 'it' to score. Some people have an 'it' to pass. He has an incredible 'it,' an elite 'it' to rebound.
"I think the players did a great job trying to prepare for it. He is quick. He is long. He is athletic. Credit him. It's not like we were out there not trying, so I think it's double the credit to him."