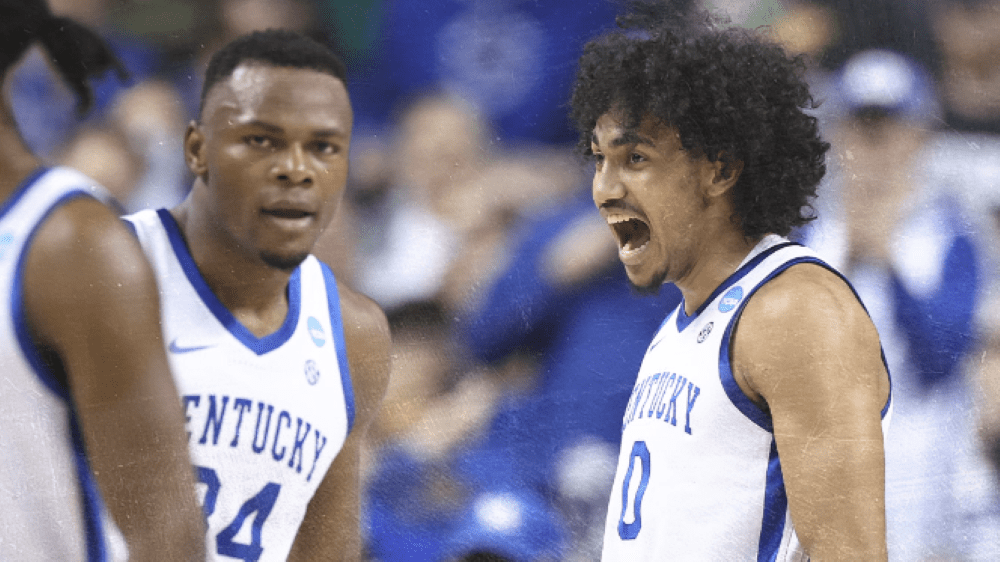 UK Athletics Photo
A weight was lifted from the shoulders of the Kentucky Wildcats after they secured a win in the opening round of the NCAA Tournament by taking out the Providence Friars, 61-53.
Kentucky didn't have a great start to Friday's game, as they went back and forth with Providence for the first 15 minutes. But after several offensive rebounds and strong drives to the rim, Kentucky was able to assert their size and strength inside to expand their lead to 38-31 at halftime.
The Friars didn't go down without a fight, though, pulling back to within as many as three.
But Kentucky still managed to lead the entire second half and secure the victory.
In fact, the final score didn't feel as close as it actually was when the clock struck zero. The game felt as if Kentucky dominated for a majority of the time and if the Wildcats had hit just a few more jump shots, the outcome could have been close to a blowout.
Oscar Tshiebwe didn't have much of a scoring impact, but he did have a record-setting night on the glass by grabbing 25 rebounds – a UK record for a NCAA Tournament game.
Nearly 2/3 of Kentucky's offense was produced by Antonio Reeves (22 points) and Jacob Toppin (18 points), which feels like the best game plan moving forward. Both were aggressive looking for their shot and looked to take advantage of a mismatch when the opportunity presented itself.
Kentucky's best chance of advancing further in the Big Dance appears to be running plays through Reeves and Toppin, asking Tshiebwe to assert all of his energy on the glass and let the likes of Cason Wallace/Chris Livingston/CJ Fredrick/Adou Thiero/Daimion Collins shoot the ball when open.
Former Wildcat Bryce Hopkins was the topic of many stories this week by having a shot to knock out his former team, but the first-year Friar scored just seven points on 2-9 shooting while grabbing eight rebounds.
Friday night's game happened to be the one-year anniversary of the infamous St. Peter's loss. Kentucky has vastly underperformed in the last few postseason appearances they've made and this team specifically was coming off a one-and-done appearance in last week's SEC Tournament.
But following the win over Providence, Kentucky fans can finally all just take a breath.
For a day, at least.
The Wildcats will advance to the Round of 32 and are set to play the winner of Kansas State/Montana State on Sunday. Kentucky fans will learn the result of that game later Friday evening and Sunday's tip-off time later on in the weekend.