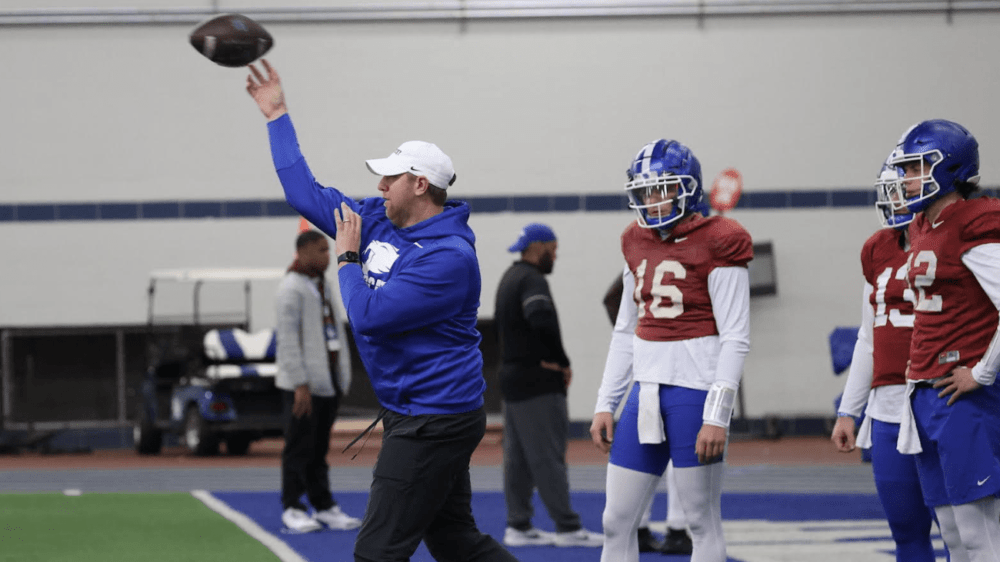 Having Liam Coen could provide some stability at offensive coordinator for Kentucky. (Vicky Graff Photo)
Cole Cubelic estimates he's been watching Kentucky football for about 30 years now and the ESPN/SEC Network analyst probably has the best feel on the UK program of any national media member.
This week on his podcast he talked about the questions and possible answers Kentucky has going into the 2023 season (and how can you not love a podcast sponsored by Wickles Pickles).
It's about 30 minutes but a great listen for any Kentucky football fan because he talks about the good, the potential bad and the unknown for the 2023 Wildcats.
He admits last year was more of a "roller coaster" season for coach Mark Stoops considering the stability he has brought to the program during his tenure.
Cubelic, like most UK fans, believes having offensive coordinator Liam Coen back is a huge plus.
"I think Liam Coen is phenomenal," Cubelic said on his podcast.
Cubelic noted when Coen left after the 10-win season in 2021 after just one season at UK it created a "revolving door" situation with different offensive coordinators in 2020, 2021 and 2022 — and now Coen is back after Rich Scangarello was fired.
"Now you hope to get back to having the same guy (Coen) for a while," Cubelic said.
The national analyst certainly is a fan of defensive coordinator Brad White. He thinks he is one of the "most underrated defensive coordinators" in college football.
"That defense is built a little different way. It is more of a heavy-handed defense. Not super athletic, not super fast … they still want to beat you up. They are kind of similar to Mississippi State. They may not be as good as some but they are one of the teams I would least like to fight."
Cubelic considers UK one of the "coin flip teams" in the SEC season.
"There are not a lot of teams I can just plug in and just say they will win 10 games," Cubelic said.
His podcast has a lot of insights on UK's offense that likely will make Kentucky fans even more optimistic about 2023.