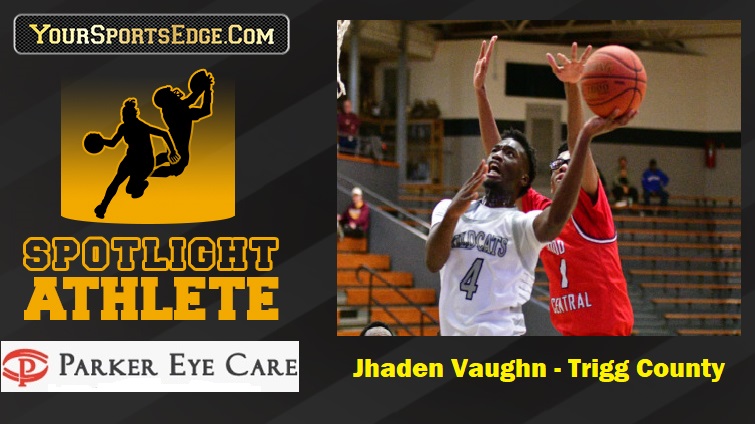 Trigg County junior Jhaden Vaughn is etching his name into a pair of record books at the school with one more season to try and reach the top of several lists in two sports.
Vaughn wrapped up his basketball season earning All-District and All-Region honors after averaging 17 points and 12 rebounds for the Wildcats.
The 6-4 athlete passed the 1,000 career point mark earlier this season and will enter his senior season with 1,335 points. He stands at 14th on the Trigg County scoring list, 44 points ahead of Prince Northington (1,291). Ahead of Vaughn are Cole Gardner (1,372), Scott Sivills (1,381), and Mike James (1,392).
Vaughn has an outside shot at becoming the first boys' player to score 2,000 career points. He would need to average over 21 points a game next season to accomplish the feat and become the school's all-time leading scorer.
Vaughn will also top 1,000 career rebounds early next season, joining a short and somewhat unknown list of Wildcat players who scored 1,000 points and grabbed 1,000 rebounds.
While basketball may be Vaughn's preferred sport, football is where his first college offers have come from.
Vaughn had 39 catches for 862 yards and nine touchdowns for the Wildcats in 2022.
Heading into his senior season in 2023, Vaughn has 1,893 yards and needs just 168 yards to pass Devron Wadlington's school record of 2,060 yards achieved from 1999-2001.
Vaughn's 88 career receptions rank fifth on the school's all-time list. He needs 28 catches in 2023 to pass Jakobe Bridges (2016-19) to top the list.
While his 18 career touchdowns rank third on the list, he'll need a break-out season in 2023 to top Trigg County's all-time receiving list. Wadlington had 36 touchdown catches in his three-year career, including 24 in the 2000 season.
Jakobe Bridges is second on the career list with 21 TD catches.
Vaughn has received football offers from Eastern Kentucky and Murray State.
As the basketball season ended, Vaughn talked about his season on the hardwood, his bloodlines that include Uncle Al Baker, and the work that lies ahead of him in this YSE interview.