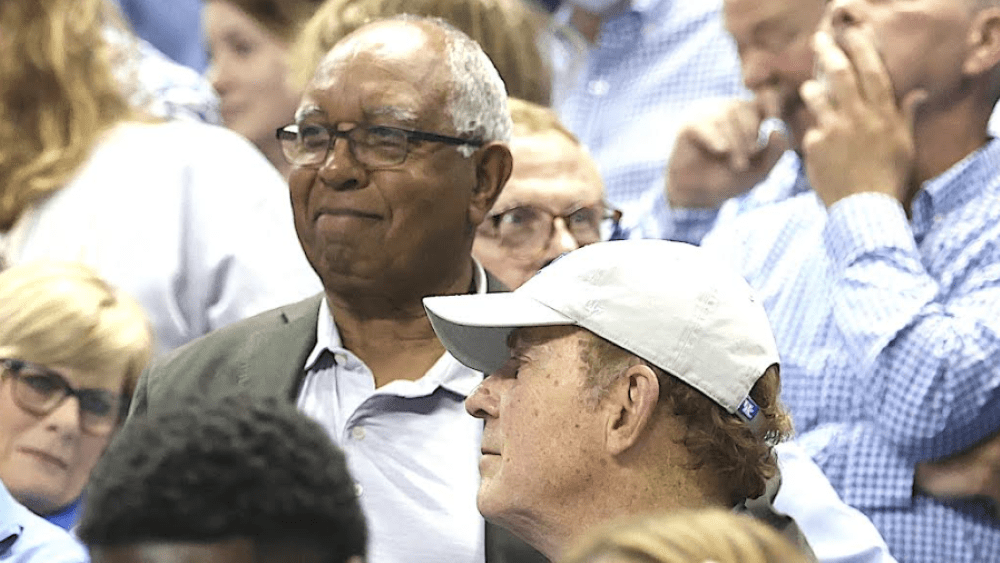 Tubby Smith was all smiles Friday night in Greensboro when UK beat Providence. (Vicky Graff Photo)
Former University of Kentucky coach Tubby Smith will be honored by the U.S. Basketball Writers Association on April 11 in Greensboro, N.C., when he receives the Dean Smith Award that recognizes an individual in basketball who "embodies the spirit and values" of a legendary coach.
He'll share the award with Bob McKillop, who led Davidson to 23 conference championships in 33 seasons before retiring in 2022 with 634 wins — the 54th best total in NCAA history. His 2008 team reached the Elite Eight.
Smith won 642 in his illustrious career that also included head coaching stops at Tulsas, Georgia, Minnesota, Texas Tech, Memphis and High Point. He took five teams to the NCAA Tournament and became only the second coach to have done so.
He was the first African-American coach at Kentucky and his "Comeback Cats" won the national championship in 1998 in San Antonio when Jeff Sheppard was the Final Four MVP.
Smith, who was in Greensboro last weekend to watch UK play in the NCAA Tournament, won the USBWA's Henry Ida Award as the national coach of the year in 2003 when the Wildcats were 32-4 and ranked No. 1 in the final Associated Press Top 25.
Smith donated $1 million to help with the construction of a new arena at High Point and he coached there five years before retiring after the 2021-22 season. The court was named the "Tubby and Donna Smith Court" in honor of Smith and his wife.
Smith was involved in numerous charitable endeavors during his time at Kentucky, when he had a 263-83 mark  and made the NCAA Tournament all 10 seasons. He never won less than 22 games
McKillop won the award in 2019 and Smith  in 2021. The Dean Smith Award was created by the USBWA in 2015 to honor the late Hall of Fame coach at North Carolina. Coaches are recognized for their principles of honesty and integrity, for treating all people with courtesy and respect, for accomplishments off the court, and for the impact they have made on their community and the lives of their players.
"It is so appropriate to honor these two great coaches and better men in the heart of North Carolina basketball country, which has always been home for Tubby Smith and where Bob McKillop was a constant for so many years at Davidson," said USBWA president Luke DeCock, a sports columnist at the (Raleigh) News & Observer.