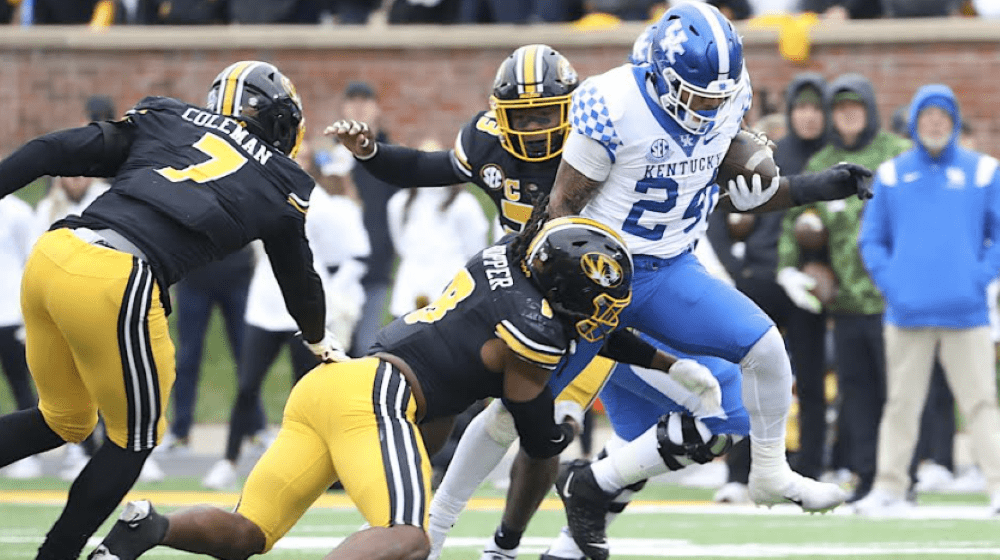 Vicky Graff Photo
Some might have been surprised that Kentucky's Chris Rodriguez ran the 40-yard dash in 4.52 seconds at Friday's Pro Day at Kentucky based on times several NFL scouts said they had.
Rodriguez was a bruising running back the last three years at UK but was not known for his speed. However, SEC Network/ESPN college football analyst Cole Cubelic was not surprised at what Rodriguez did.
"I think that is about where folks figured he would land. He's not known as a breakaway back. He's a guy known more for his vision and he can bring power," Cubelic said on WLAP Sunday morning Sports Talk.
"I thought he was a very underrated player and he could have a very long NFL career. He has a good understanding of multiple skills and can run a lot of different things. He will have a really good opportunity to make money in the NFL for a long time."
Former Kentucky star Benny Snell who is now with the Pittsburgh Steelers ran a 4.66 40-yard dash at his Pro Day. Former UK all-SEC running back Anthony White said that was about the same time Moe Williams ran and he had a long, productive career in the NFL.
"Everybody knows I can run the ball, but people were kind of skeptical of how fast I was," Rodriguez said after his 40.
He noted teammates like Barion Brown, Dane Key and Wan'Dale Robinson might have made him seem slower than he is.
"Showing I'm not slow but not super fast feels pretty good," Rodriguez, who averaged 6.2 yards per carry at UK, said Friday.
Rodriguez did not run the 40 for personal reasons at the NFL Combine in Indianapolis where he had the fourth best bench press (19) of any running back. He did not do the bench press again Friday for over 100 NFL representatives but went through all the other drills.
His 4.52 would have ranked eighth best among running backs who did run at the NFL Combine and was faster than UCLA's Zach Charbonnet  and Auburn's Tank Bigsby who are both ranked among the top 100 prospects in the draft ratings by some.
Cubelic doesn't think not running the 40 at the NFL Combine will impact Rodriguez's draft status.
"Everybody wants you to go perform and it would be ideal (to run at the Combine). Head coaches and personnel want to know you will compete and not back down, but circumstances happen," Cubelic said. "It will not automatically bump him down a round because he didn't run at the combine."