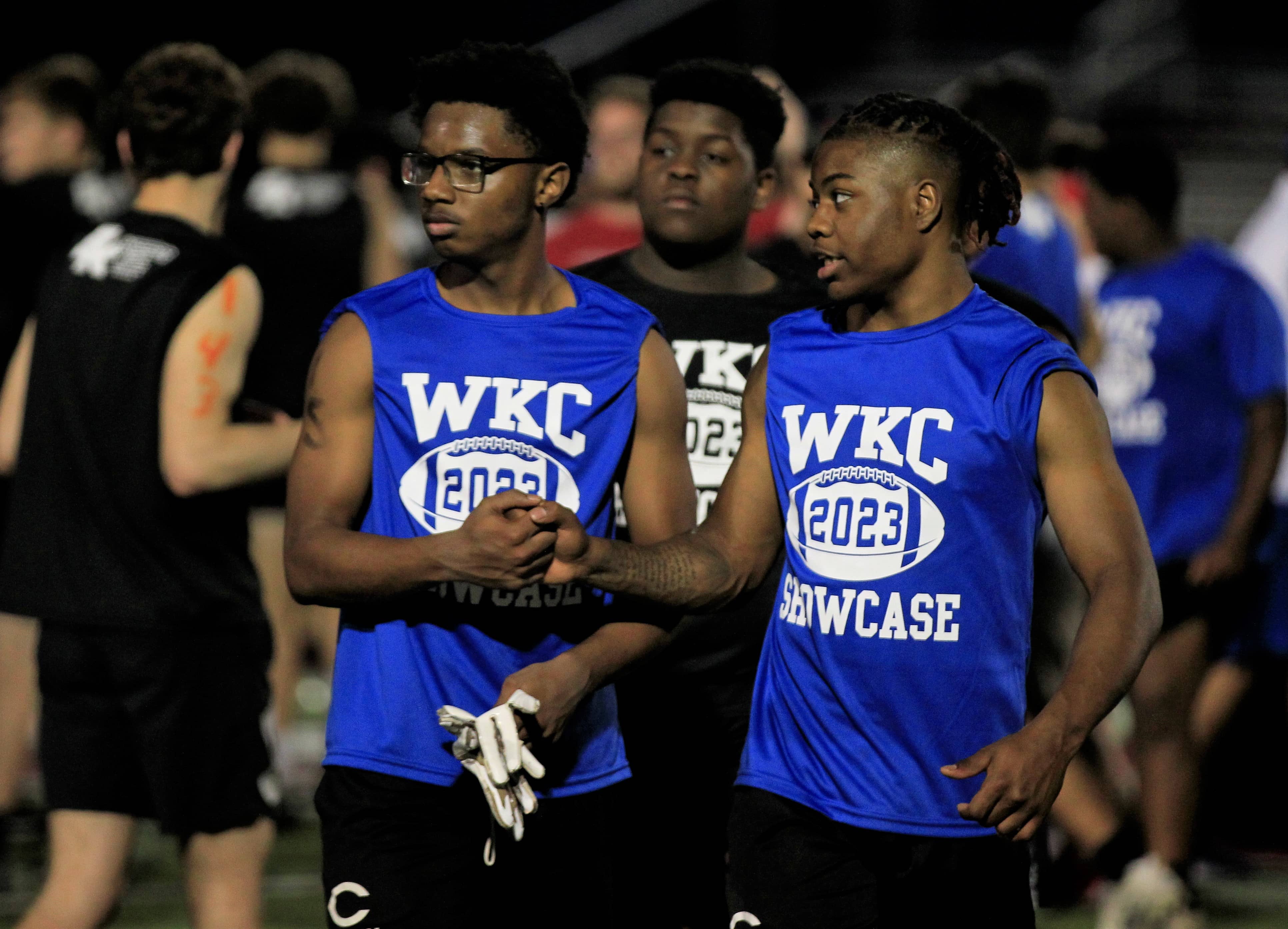 For the first time since 2019, McCracken County football and its gridiron palace, Marquette Stadium, played host to the Western Kentucky Conference Showcase Thursday night, giving platform and spotlight to the Class of 2024 and 2025.
Instead of Chris Ezell and his Trigg County staff applauding a terrific pass break up from senior defensive back Kahmani Bush — or Marc Clark and his crew ballyhooing over a well-defended midfield catch for Treston Kay — it was coordinators from Murray State, SEMO, Midway (sprint), Centre, Georgetown and other college programs making note.
Originally planned for last Thursday, but moved because of potential inclement weather, Clark said more than 20 teams had been lined up for the event's lauded return — including most of the in-state schools, Miami (OH) and more.
Rescheduling, of course, meant conflict for some. But regardless, Clark noted it was high-time for what used to be west Kentucky's premier event to return.
"There's so many things that were lost due to COVID," he said. "And this was one. It's a good function. The last time we ran it, I believe, was 2019, and so we just didn't get some of the exposure stuff you get with this type of showcase. It's excellent, and we want to try to take advantage of it — letting people see that it's a one-stop shop where you can recruit all of western Kentucky. It's really a no brainer from that standpoint."
Nearly 150 players from the WKC membership were in attendance, including Calloway, Christian, Crittenden, Graves, Hopkins County Central, Hopkinsville, Madisonville-North Hopkins, Marshall, Mayfield, McCracken, Paducah Tilghman, Trigg, Union and Webster.
For two hours, each skill group was subjected to specifically tailored drills. Quarterbacks trained on footwork, route trees and closed with 1-on-1 wide receiver/defensive back throws. Offensive and defensive linemen often squared in short and long pull situations, and their own 1-on-1 bullrush matchups. Defensive backs and linebackers focused on angle breaks, backpedaling, speed turns and pass coverage.
The only thing missing: punt return, kick return, coffin kicks and field goal/PAT accuracy. Why do the kickers never get any love?
Ezell, who brought along five seniors in Bush, star wideout Jhaden Vaughn, lineman Charles Dannelly, lineman Tay'Shaun Linton and WR/QB/DB Jerimyah Shearer, enjoyed two firsts Thursday evening: a visit to McCracken County's terrific turf field, and time in the showcase.
"When I got down here, as far as coaching wise in west Kentucky, it was COVID," he said. "And that's when…we hadn't had it since then. This is great. It's an opportunity for our guys here in western Kentucky to showcase their talents and abilities. We feel, here in west Kentucky, that often times we're overlooked and under-recruited. So here's an opportunity for these guys to show what they can do."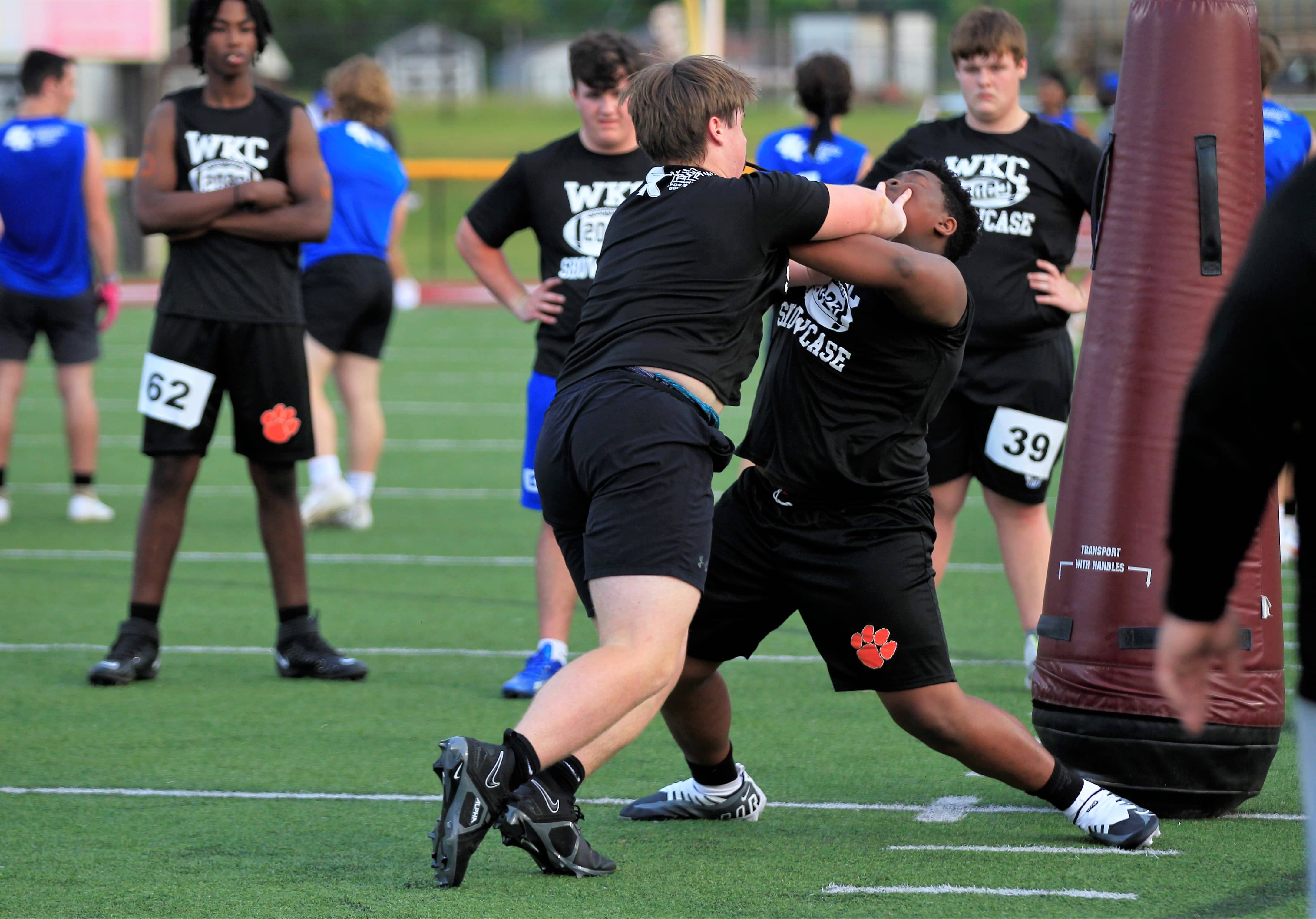 Matt Harmon, assistant football coach for Georgetown, noted in passing that he was able to walk away with a much longer list of potential targets than with which he arrived — meaning his three-hour, 47-minute, 263-mile drive down the West Kentucky Parkway was worth every penny.
Not everybody at the showcase currently toted the same interest Vaughn has right now, with offers from Murray State, Vanderbilt, UAB, Miami (OH), Western Kentucky and Eastern Kentucky already in his fold. Some did, including Paducah Tilghman quarterback Jack James, who holds offers from Miami (OH), Eastern Kentucky and Troy, but others are still looking for that first step into the NAIA, DIII, DII, FCS or FBS world.
Zach Self, interim skipper for Christian County Colonels football, called the event "fantastic" — especially after bringing a bus full of 11 seniors along for the ride.
"Western Kentucky players, as a whole, are really overlooked," he said. "This actually brings us all together, where we can really show them off and show their abilities and their skills. It's fantastic. So having it back, as an annual thing, I hope we keep bringing it back. It's fantastic for all the guys in west Kentucky."
In April, WKC President and longtime Webster County coach Zach LaGrange stepped away from coaching — having recently led the Trojans to a fighting 4-7 record.
McCracken County coach Jonathan Smith said leadership, as of now, is being held council-style, in an effort to defray WKC responsibilities — which typically includes, at the very least, an end-of-year awards celebration for the region's best players.
"I love the showcase," he added. "It's needed to be back. Now, if we could find another conference to play us, we need to get the All-Star Game back, too."
Christian County attendees: LB Deshaun Bibbs, LB DeAnthony Brown, TE Jerry Foster, DB Demarius Hawkins, QB Jordan Miles, DB Prince Northington, DL Theo Quarles, LB Jaden Reaves, OL Xaveir Reid, OL Xaveiyon Reid, WR/DB Jaysean Riley
Hopkinsville attendees: DL DeQuavion Bronaugh, WR/DB Malcham Childs-McKee, LB/RB Devin Coleman, RB/DB Darrius Green, DB Iriel Leak, OL JyQuaveious Catlett, DL/OL O.J. Christian, LB Amoni Johnson, OL Jeremiah Jones, WR/DB Treston Kay, DB/WR Aiden King

2023 WKC Showcase