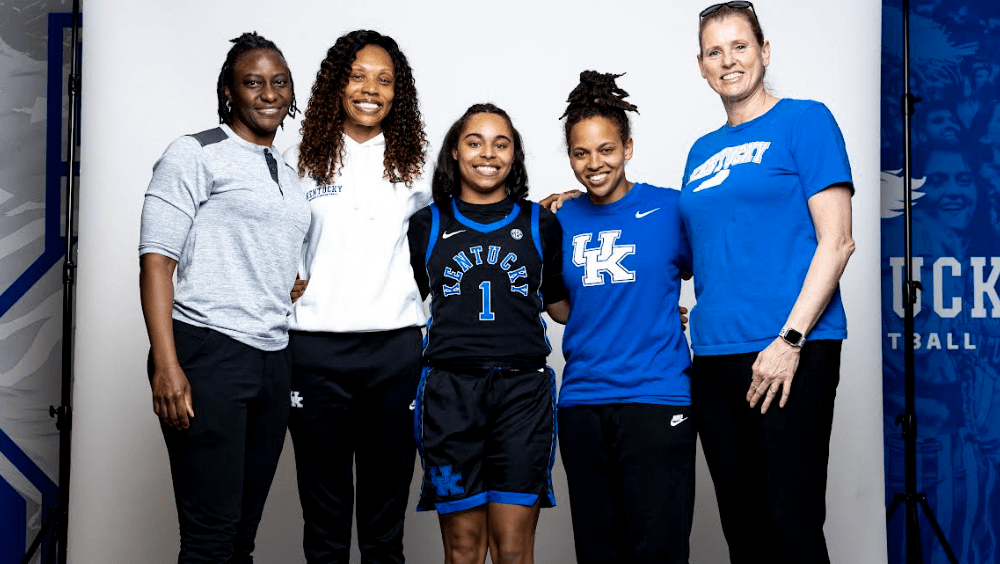 Brooklynn Miles with the UK coaching staff. (UK Athletics Photo)
Former Kentucky Miss Basketball Brooklynn Miles was a star player at Franklin County High School that Kentucky tried to recruit but she opted to go to Tennessee where she played in 56 games the last two years.
However, Miles is now returning to the Bluegrass to play for Kentucky coach Krya Elzy.
Miles put her name into the transfer portal after the season ended and announced on social media Monday she was heading back to Kentucky to play. Two other former Kentucky Miss Basketballs, Maddie Scherr of Ryle and Amiya Jenkins of Anderson County, are also on the UK roster.
"The coaching staff and I couldn't be more excited to welcome Brooklynn back home. She is a proud hometown girl, who understands the responsibility of wearing Kentucky across her chest. Not to mention, she'll join Amiya and Maddie as a trio of Miss Kentucky Basketball honorees on one team," Elzy said in a release from UK
"On the court, Brooklynn is an explosive guard, which will fit our up-tempo style of play, and she is a tenacious defender. Brooklynn has a competitive mindset, and she is ready to get to work for the upcoming season."
Her addition could help offset the loss of starting point guard Jada Walker, who transferred to Baylor.
Miles had  2,278 points (14.0 per game), 624 assists (3.8 per game), 477 rebounds (2.9 per game) and 451 steals (2.8  per game) at Franklin in her four year and shot 45 percent from the field. She was also the Kentucky Gatorade Player of the Year after averaging 15.8 points, 5.4 assists, 3.7 rebounds and 3.3 steals per game her senior year.
She was the 62nd-ranked player in the Class of 2021, according to World Exposure Report, and the 20th-ranked point guard in the class, according to espnW.
The 5-4 guard averaged 1.8 points, 2.1 rebounds and 1.5 assists per game in her two years at Tennessee. She shot 40 percent overall from the field. Miles played in six NCAA Tournament games in her two seasons.