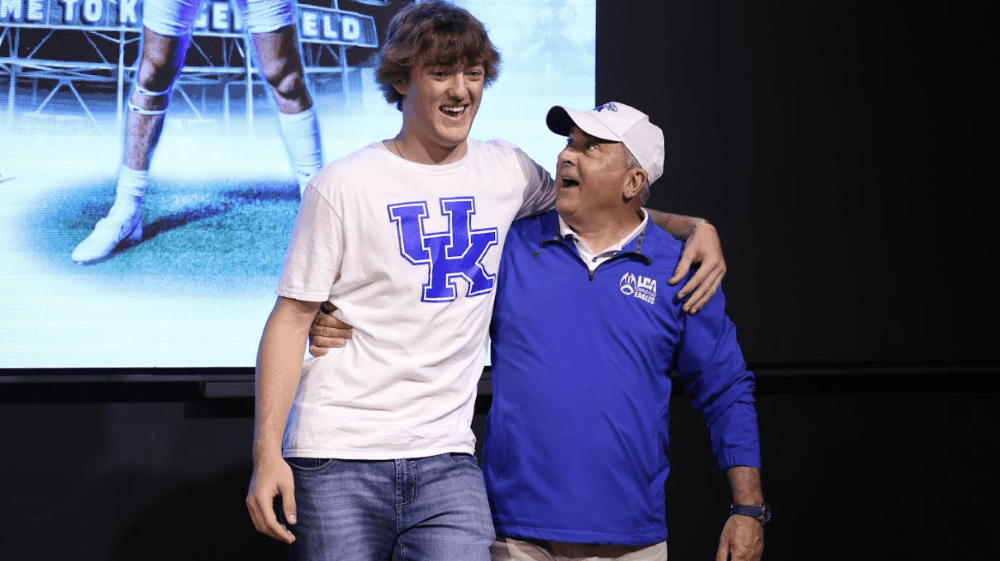 Former UK all-SEC receiver Craig Yeast believes Cutter Boley is the perfect quarterback for Liam Coen's offense at Kentucky. (Lisa Collins Photo)
Former Kentucky receiver Craig Yeast played with quarterback Tim Couch, the No. 1 pick in the NFL draft, and then spent eight years playing professional football.
He's now the head football coach at Mercer County High School and got a lot at UK commit Cutter Boley last year when Boley led Lexington Christian to a win over Yeast's Titans.
"I never like to compare other players to former players but Tim Couch, in my opinion, is in a class of his own," Yeast said. "Tim Couch is that guy.
"I watched Cutter cut my Titans up last year. I know he had a few injuries after that but I believe they will be right back this year making a (state) title run. Then I think he will go to UK and learn as much as possible but I think he will be phenomenal."
Why could he be that good?
"He's a big, strong and athletic. He has a big arm but is also extremely intelligent," Yeast said. "I think in the offense Liam (Coen) brings to Kentucky he will be a perfect fit for everything Liam does.
"He is really good at moving around and throwing on the run as well and delivering dimes. What Liam does fits Mr.. Boley perfectly."
Yeast will get a look at UK offensive line commit Hayes Johnson when his Titans host Taylor County Aug. 19 in Harrodsburg.
"He's big, he's athletic and he's physical. That tells you everything you need to know about him," Yeast said. "I have no idea how we will stop Taylor from running behind him and how we are going to block him."