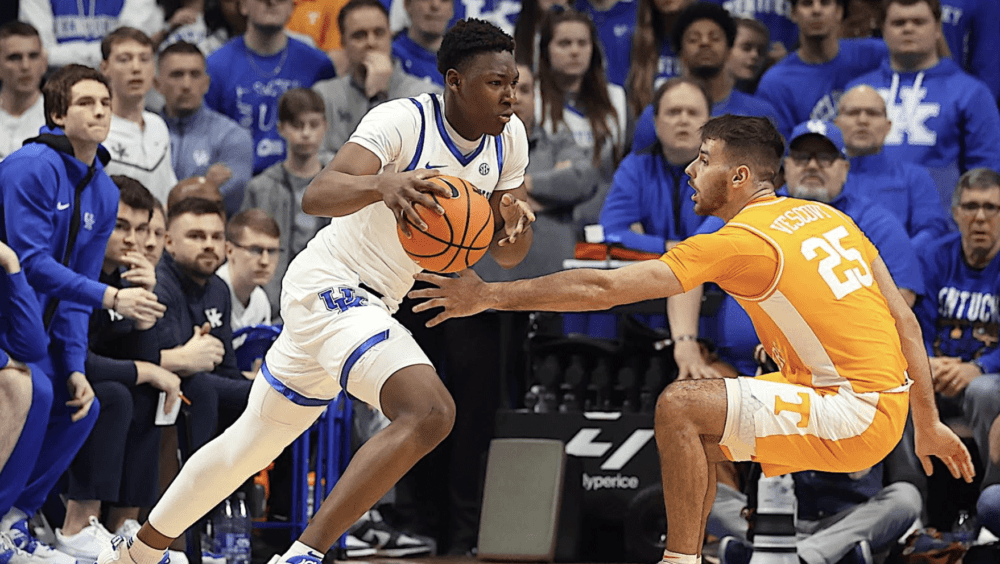 Vicky Graff Photo
Adou Thiero's maturation and what role or roles he might play on Kentucky's 2023-24 basketball team have been discussed a lot this offseason going into UK's four-game exhibition trip to Canada next week representing the USA in the GLOBAL Jam.
But Wednesday Thiero talked about one of his welcome to big-time college basketball moments at Kentucky.
"As soon as I got here, I remember I got matched up with Chris (Livingston) and he gave me a mean shoulder to the middle of my chest. After that, I knew I had to get stronger," Thiero said.
He was a late addition to the UK roster last season after blossoming during his high school senior season. He averaged 2.3 points, 1.9 rebounds and 9.7 minutes per game in the 20 games he played last year. But he showed flashes of brilliance and now has the versatility to play as many as four positions with his six and athleticism.
While he's only a sophomore with limited experience, he's a veteran on a Kentucky team with seven freshmen among its top 11 players.
Thiero is a fearless defender but has added muscle and strength to help him be even more physical and hopefully an even better rebounder.
"I'm going to try and get as many rebounds as I can just to be able to give us more possessions or cut the other team's possessions," Thiero said Wednesday. "I feel like I still have parts of my game that I can show and everything and I'm just going to do whatever I can to help my team win."
So what has Thiero been working on that he will use in the games in Toronto against teams from Africa, Germany and Canada?
"I've just been working on my shot, playmaking, being able to attack the rim, finding open spots for the ball handler to hit me," Thiero said. Just being able to play hard, having that dog in me."