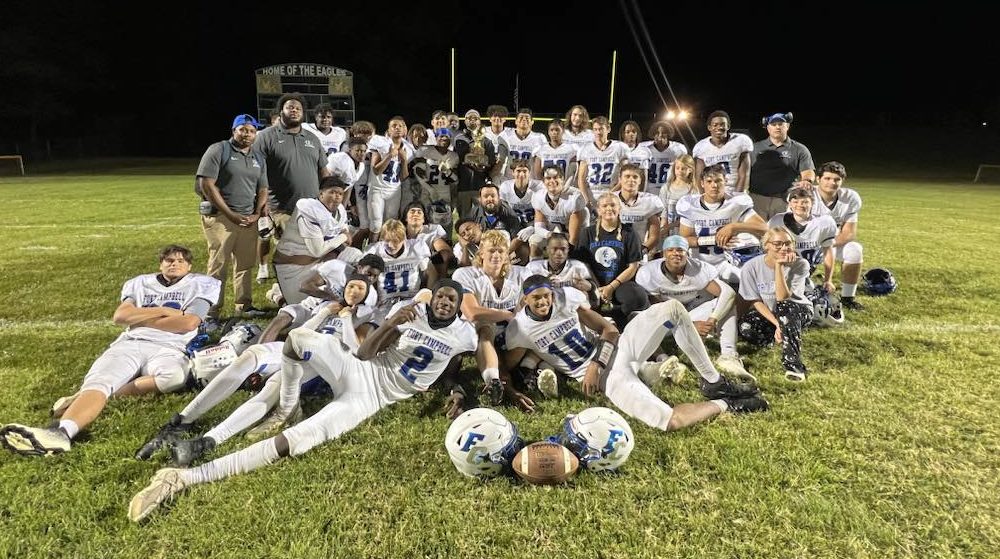 Photo provided
The Fort Campbell Falcons put an end to their three-game losing skid by picking up their second straight win in the Army Bowl series with Fort Knox Friday night. The Falcons ripped off 42 straight points to come from seven points behind and blow open a close game on their way to a 42-13 win at Fort Knox.
The Eagles got on top in the first quarter when Roques Wrenn carried it in from four yards out to put Fort Knox up 7-0.
Fort Campbell quarterback Jacaryous Perriman and blazing fast wide receiver Maurice Moore hooked up twice over the rest of the first half, once from 34 yards, with 2:27 left in the first quarter, and once from 33 yards with 55 seconds left in the half, as the Falcons battled back to take a 15-7 lead into the locker room.
Perriman then lowered the boom on the Eagles as the second half got underway. A 12 yard pass to Torrance Dixon, a 13 yard pass to Maurice Moore, and a one yard run, and suddenly the lead was at 36-7 with 10:18 to go in the game.
Torrance Dixon added a touchdown run with just under seven minutes left in the game to make it 42-7. The Eagles would find the end zone in the final minute to get to the final 29 point margin.
The Falcons ended up outgaining the Eagles 298 to 146.
Perriman ended the game 16 of 26 for 213 yards passing and four touchdowns. Maurice Moore caught for of those passes for 105 yards and three touchdowns.
The Fort Campbell defense was big-time on the night. Take away the opening drive and a late meaningless touchdown, and the Eagles were held to less than 40 yards of total offense for the rest of the game.
Fort Campbell improves to 2-3 on the season. They are set to make the journey to Hickman next week to take on the Fulton County Pilots.