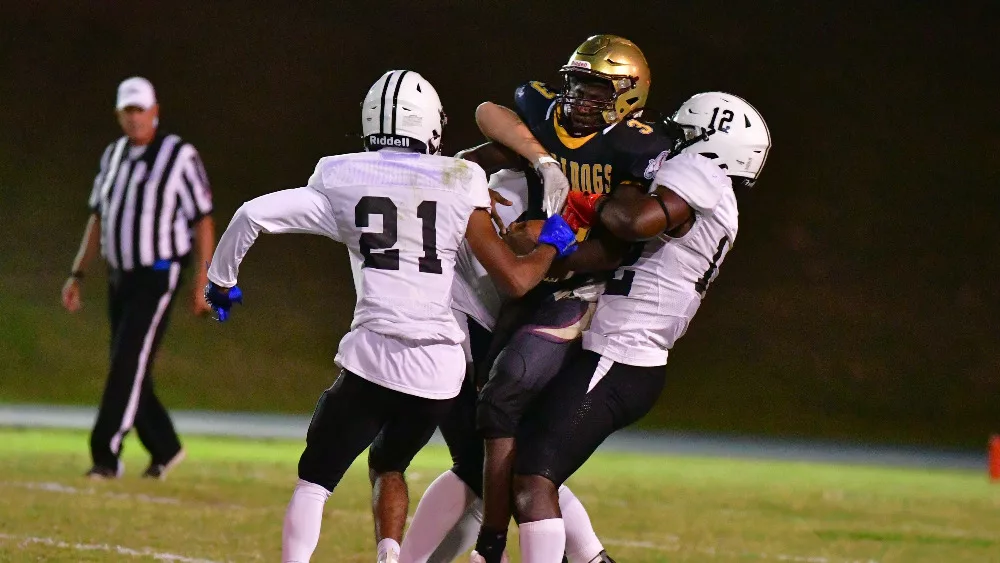 Anyone looking at Trigg County's 62-42 loss to Webster County would think the Wildcat defense got shredded. If you were there, you would know that was not the case.
The Wildcats were done in by shoddy special teams play as Webster County's Jarvis Starks Scott returned two kickoffs and an interception for touchdowns.
Jackson Edens also had a punt return for a score as the Wildcat defense allowed five touchdowns to Webster, one of those coming with 46 seconds left, and the game already decided.
Webster County's wing-T attack was hit or miss for most of the night. Edens' 57-yard run on the opening drive set up a 4-yard touchdown run by Tyler Kautzman.
Webster's only completed pass of the night – a 52-yard scoring strike from Blake Hanor to Aden Walker – put the Trojans up 14-0 midway through the first quarter and put the Wildcats back on their heels.
Trigg County scored the first of its three second quarter touchdowns when Jerimyah Shearer connected with Jhaden Vaughn on an 11-yard pass.
But the excitement for Trigg was short-lived as Starks Scott, who didn't play football last year, took the kickoff 75 yards for a score and a 22-7 Webster lead.
Shearer and Vaughn connected again for a score – a 17-yarder – with 5:53 left in the half to draw Trigg to within 22-14.
Trigg forced a punt with 3:20 left but Shearer rolled out and underthrew a sideline pass that Starks Scott picked off and returned 67 yards to the end zone and a 30-14 lead.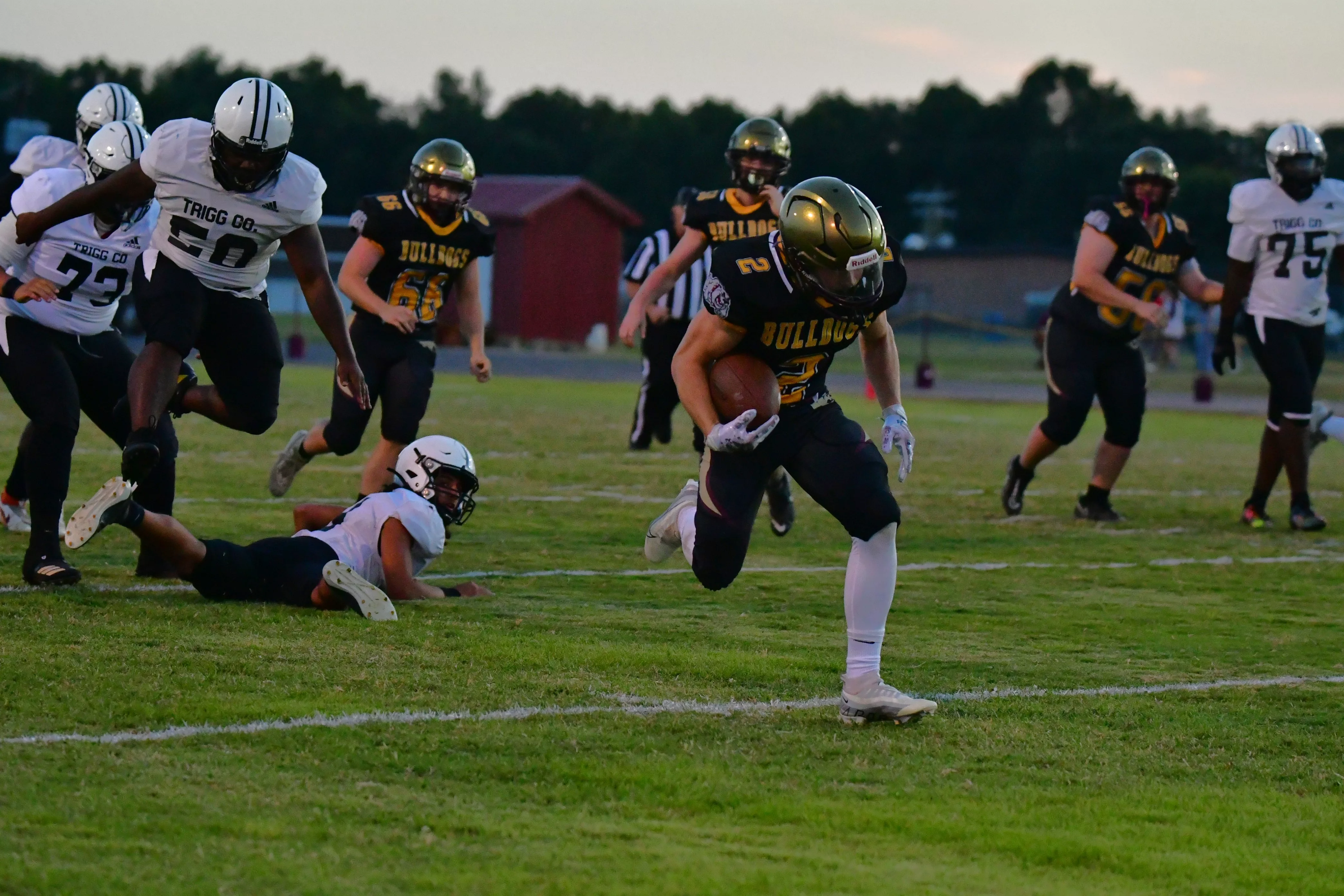 Trigg regrouped and put a score up before the break – a Shearer to Kahmani Bush 19-yard TD with 42 seconds left before halftime.
On Webster's first drive of the third quarter, Peyton Williams returned a punt 72 yards for a touchdown to draw the Wildcats to within 30-28.
Webster answered with a seven-play, 52-yard scoring drive that was kept alive by a Trigg offsides penalty on 4th-and-4 at the Trigg 36. Starks Scott capitalized on the Trigg mistake the plays later with a 17-yard touchdown run to push the Webster lead to 38-28.
The dagger came at the end of Trigg's next drive when two 15-yard penalties backed the Wildcats up to their own 30. Edens fielded a short punt and returned it untouched for a 45-yard touchdown that extended Webster's lead to 46-28.
After Williams hauled in a 29-yard touchdown pass from Shearer on the first play of the fourth quarter, Trigg County again kicked off to Starks Scott. And again, Starks Scott returned it to the house – this time from 80 yards.
After a Trigg punt on its next drive, Edens scored on an 85-yard run that put the Trojans up 58-34 with 8:24 left.
Edens ran for196 yards on 13 carries with two runs accounting for 142 of that total.
Webster ran the football 22 times in the second half for 197 yards. However, 18 of their 40 rushes went for two or fewer yards as the Wildcat defense limited the run game at times.
Trigg outgained Webster in yards 415-326. Shearer was 21-of-36 passing for 237 yards and five touchdowns. He was picked off twice.
Vaughn had nine catches for 61 yards. After setting the Trigg County career receiving yards mark in last week's win over Russellville, Vaughn moved into second place on the school's receptions list with 108. He needs eight catches to pass Jakobe Bridges for first place.
The 106 points scored between the team is tied for the third-most in Trigg history. The 64 points allowed the Webster County is the most in the series, eclipsing the 59 scored by the Trojans in 1999.
Webster County (4-1) is off to its best start in 21 years, which was also the last time they beat Trigg County before Friday snapping a 12-game losing streak to the Wildcats. Trigg County still leads the all-time series 22-5.
Trigg County (2-3) returns home Friday for the first of three straight district games at home. It will also be homecoming as the Wildcats welcome in Hancock County.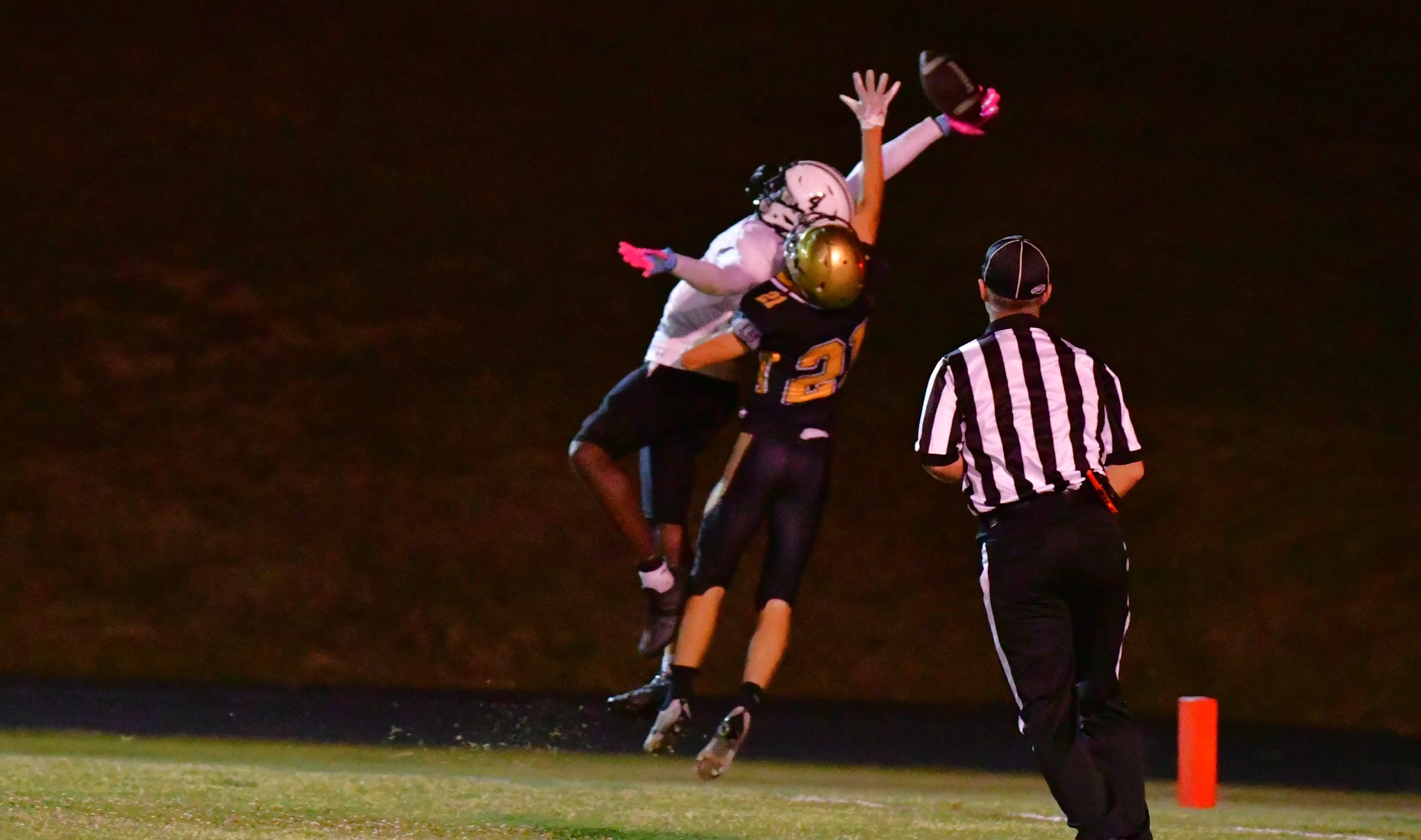 GAME STATS
TOTAL YARDS
Trigg County 425, Webster County 326
RUSHING YARDS
Trigg County 26-188, Webster County 40-274
PASSING YARDS
Trigg County 237, Webster County 52
FIRST DOWNS
Trigg County 17, Webster County 14
PENALTIES
Trigg County 9-80, Webster County 5-45
TURNOVERS
Trigg County 3, Webster County 1
INDIVIDUAL STATS
RUSHING
TRIGG – Shearer 14-110, Gude 12-78
WEBSTER – Edens 13-196, Kautzman 11-49, Starks Scott 6-34, Preston 4-6, Phillips 1-(-4), Hanor 5(-9)
PASSING
TRIGG – Shearer 21-36, 237 yards, 5 TDs, 2 INTs
WEBSTER – Hanor 1-3, 52 yards, 1 TD
RECEIVING
TRIGG – Vaughn 9-61, Gude 5-52, Williams 3-53, Kline 2-26, Bellows 1-52, Bush 1-19
WEBSTER – Walker 1-52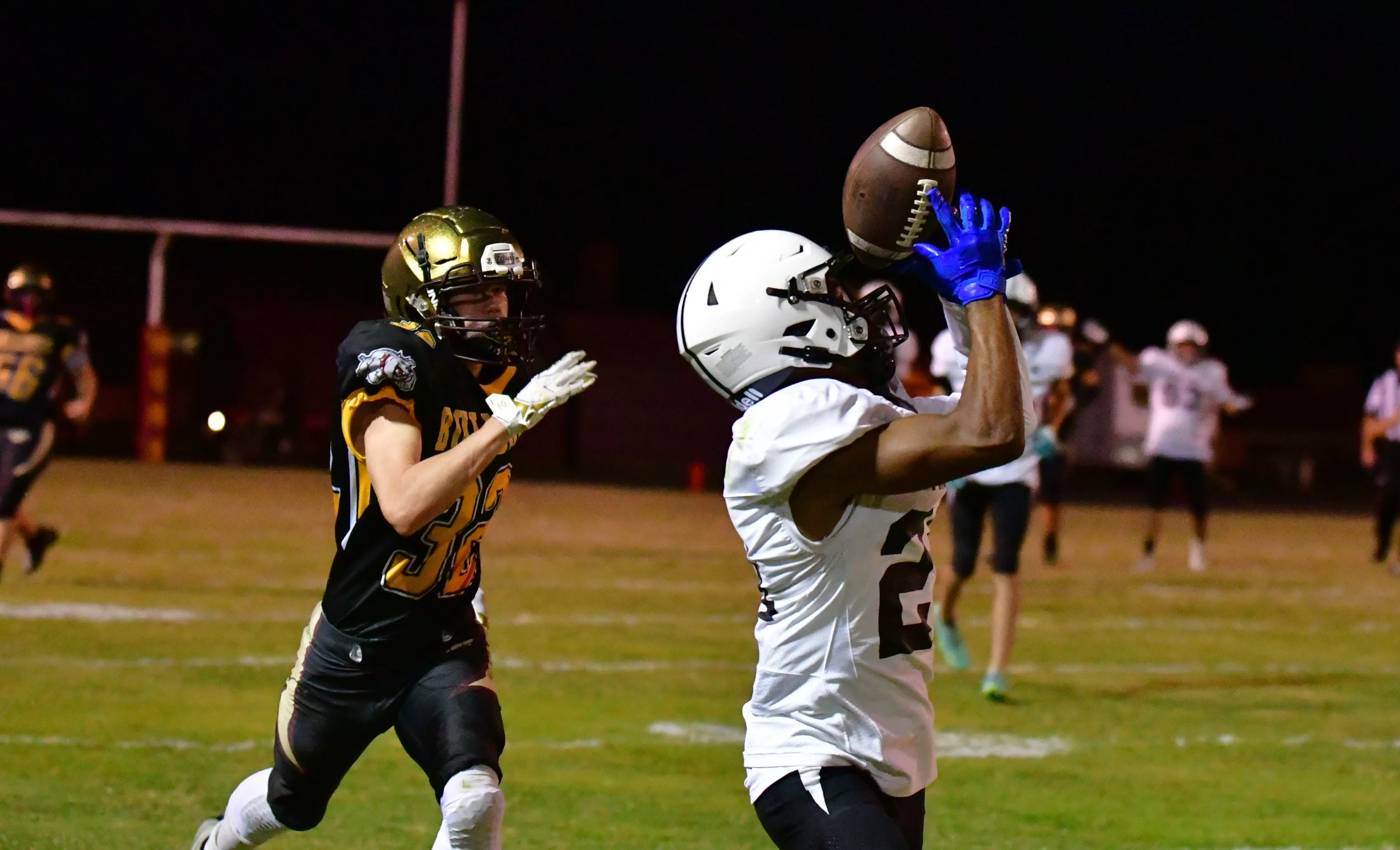 SCORING SUMMARY
WC – Kautzman 4-yard run (Trader kick), 9:26 1Q (7-0)
WC – Walker 52-yard pass from Hanor (Trader kick), 6:22 1Q (14-0)
TC – Vaughn 11-yard pass from Shearer (Renfroe kick), 10:29, 2Q (14-7)
WC – Starks Scott 75-yard kickoff return (Hanor run), 10:18, 2Q (22-7)
TC – Vaughn 17-yard pass from Shearer (Renfroe kick), 5:53, 2Q (22-14)
WC – Starks Scott 67-yard interception return (Hanor run), 2:55, 2Q (30-14)
TC – Bush 19-yard pass from Shearer (Pass failed), 0:42, 2Q, (30-20)
TC – Williams 72-yard punt return (Gude run), 7:01, 3Q (30-28)
WC – Starks Scott 17-yard run (Edens run), 3:20, 3Q (38-28)
WC – Edens 45-punt return (Hanor run) 1:04, 3Q (46-28)
TC – Williams 29-yard pass (Kick blocked), 11:55, 4Q (46-34)
WC – Starks Scott 80-yard kickoff (Pass failed), 11:40, 4Q (52-34)
WC – Edens 85-yard run (Kick failed), 8:24, 4Q (58-34)
TC – Bellows 52-yard pass from Shearer (Bush Pass), 3:10, 4Q (58-42)
WC – Hanor 9-yard run (Run failed), 0:46, 4Q (64-42)