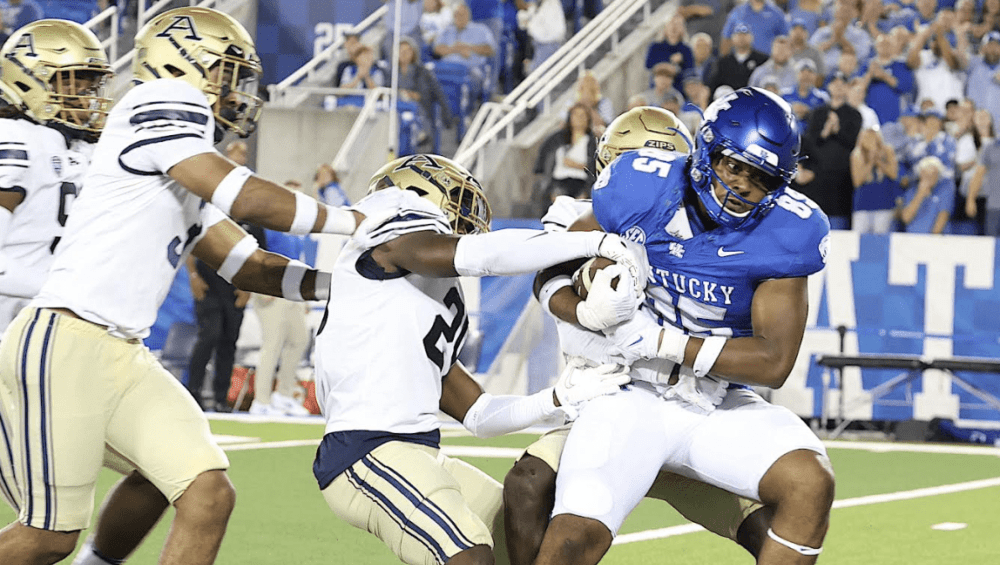 Kentucky lost a likely touchdown when Jordan Dingle fumbled after a 59-yard pass reception. (Vicky Graff Photo)
Okay maybe it is time to get concerned over the sloppiness of this Kentucky team.
There's not just one player or position that seems to be the trouble area or that would be a lot easier to fix. Instead, it is a plethora of issues.
"We are human. It happens. Football is not a perfect game. You are going to make mistakes and this is about how you face adversity and get out of the hole. When adversity did attack, we came back," UK running back Ray Davis, who had a 55-yard scoring run and 58-yard TD catch, said.
Kentucky coach Mark Stoops was not nearly as eloquent in his evaluation of UK's sloppy play.
"Another game where we win by 30 and I am pissed off," Stoops said.
Stoops should have been upset. Just consider some of the things that went wrong in the first half alone of what turned out to be a 35-3 win over lowly Akron Saturday:
— After a 39-yard gain to open the game, UK had to burn a timeout before running another play.
— A delay of game penalty took UK out of field goal range and forced the Cats to punt.
— The Cats were called for holding on a punt return.
— Tight end Jordan Dingle made a phenomenal one-handed catch and run for a 59-yard gain but fumbled the ball into the end zone and Akron recovered.
— Akron came up short on a field goal but kept the ball for 8 1/2 minutes on a 14-play drive in the second quarter.
— Transfers Marques Cox and Courtland Ford were brought in to help solidify the tackle play in the offensive line but got beat for a sack (Cox) and tackle for loss (Ford) late in the first half (Akron had six tackles for loss in the first half).
— Center Jäger Burton had a false start after a 28-yard pass to Tayvion Robinson but also had two bad snaps, including one that led to a 21-yard loss after UK reached the 7-yard line. It didn't get better for Burton in the second half as a holding call wiped out a 64-yard scoring pass to Anthony Brown-Stephens and led Stoops to say he would have to "evaluate" what to do at center.
— Kentucky also roughed the Akron placekicker in the third quarter on a made field goal.
Combine all that and it was hard for Stoops to be happy about a third straight 3-0 start for his team.
"Snaps, fumbles, sacks, you name it. Things just getting us off the rails that can't happen," Stoops said. "We only had 49 snaps and 450 yards. We scored 35 and so easily could have been 49.
"I just feel like we are leaving so much out there and that aggravates a coach to no end. But it does concern you when you get to game three and are still making the same mistakes."
Kentucky is not the only SEC team that did not look like a world-beater Saturday. Top-ranked Georgia needed a second-half comeback to beat South Carolina. Alabama has already benched two quarterbacks in the last two games. Tennessee fell apart in a loss to Florida.
Now SEC play starts at Vanderbilt. That's still the biggest cupcake in the SEC but remember the Commodores won at UK last year. The Cats simply have no more big margin for error and have to stop making so many mental, physical and emotional mistakes.