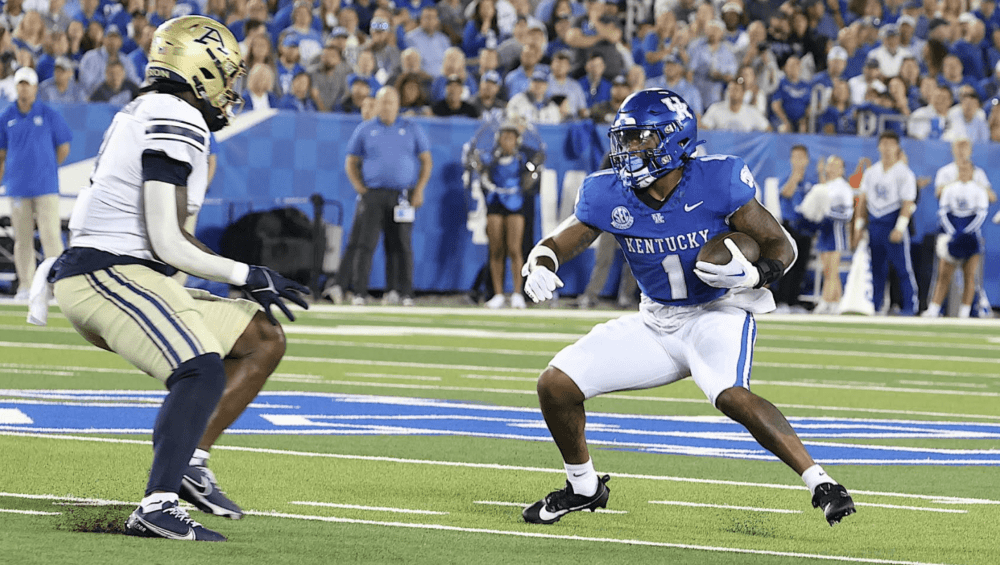 Vicky Graff Photo
It's hard, or maybe impossible, to get Ray Davis to brag on himself.
Certainly the Kentucky senior running back could have celebrated Saturday night after his performance in UK's 35-3 victory over Akron.
He caught three passes on three targets for 97 yards, including a miraculous toss under duress from quarterback Devin Leary that he turned into a 58-yard scoring play. He also ran seven times for 72 yards, including a 55-yard scoring jaunt.
"It was fun but the best part was my teammates trusted me," the Vanderbilt transfer said.
He said seeing how excited they were celebrating his big plays was important to him.
"I am blessed that my teammates trusted me to put the ball in my hands and I was able to do what I did," Davis said.
He credited backup receivers Dekel Crowdus and Anthony Brown-Stephens for key blocks on his touchdown run.
"I have a lot of trust in those guys. This whole game had nothing to do with me," he said. "Dekel and AB and those guys were blocking 20 yards down field and keeping on their man. That touchdown does not happen without Dekel and AB."
He praised his offensive linemen, Leary and the receivers blocking for him for his success and noted how senior receiver Tayvion Robinson was pointing for him to use his block to score on one play.
"I know what the O-line can do. I know if I am patient and I set up blocks guys will make it to the second level. My job is to do what I need to do on the third level," Davis said.
Kentucky now goes to Nashville to open SEC play against Vanderbilt. Davis ran for over 1,000 yards at Vandy last year, including over 100 yards in a win over Kentucky.
"It will be a little weird. I love those guys and the coaching staff. We achieved a lot of good things but right now my worry is about watching this tape and fixing what needs to be fixed," Davis said.
"That game is just another game to me. When the game is over emotions will be high and I will reminisce with my guys. But this is not Ray Davis versus Vanderbilt. This is Kentucky versus Vanderbilt."