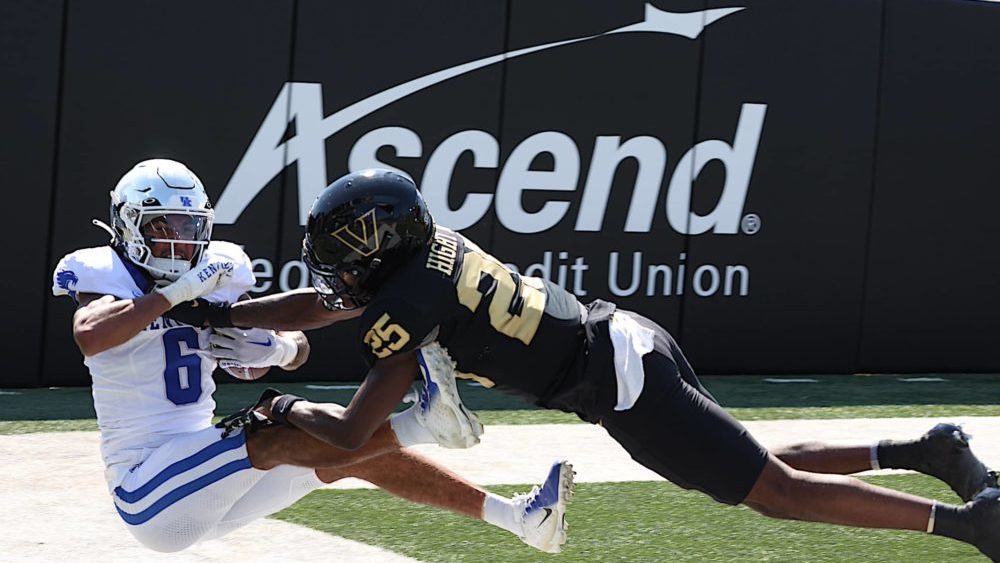 Vicky Graff Photo
After talking with several Kentucky football fans this week, one thing was clear: Kentucky's game against Vanderbilt wouldn't likely be a "gimme." Maybe that's because Vanderbilt came to Lexington last year and served Kentucky one of their worst losses of the Mark Stoops era. Or maybe it's because Kentucky has severely lacked an offensive identity through their first three games and has often looked lost when it came to moving the football down the field.
Thankfully, Kentucky went to Nashville and walked away with a 45-28 victory. But, despite the high point total, how the Wildcats won is what's concerning.
It took two interceptions that went for touchdowns from rising star Maxwell Hairston, a third interception (this one by D'Eryk Jackson) and four three-and-outs for Kentucky to dominate the game. In fact, the Kentucky defense was so overwhelming that they forced Vanderbilt QB AJ Swann into a season-low 64.7 passer rating, a 4.6 QBR and to throw nearly as many interceptions (3) as he had in his first five games of the year (4).
Though Saturday's result was a promising score, it was clear the offensive concerns many fans have continued. It was far and away the worst game of the year for quarterback Devin Leary. His receivers didn't help him much, either, as the untimely drops lingered into Week Four. Normally when an offense has a lead, they can put their foot on the gas and take control of the game. But even after Kentucky built a lead, they couldn't do much with it.
Dominating the game on defense isn't a "bad" thing. However, Kentucky could be so much better if their offense would just pull it together.
The Wildcats will return to Lexington for a home matchup against the No. 25 Florida Gators. If they have any desire to reach a 5-0 start on the year, they'll need to flip the switch offensively and take some of the pressure off their defense. Kickoff next Saturday is scheduled for Noon ET.
Wildcats-Commodores
Photos by Vicky Graff