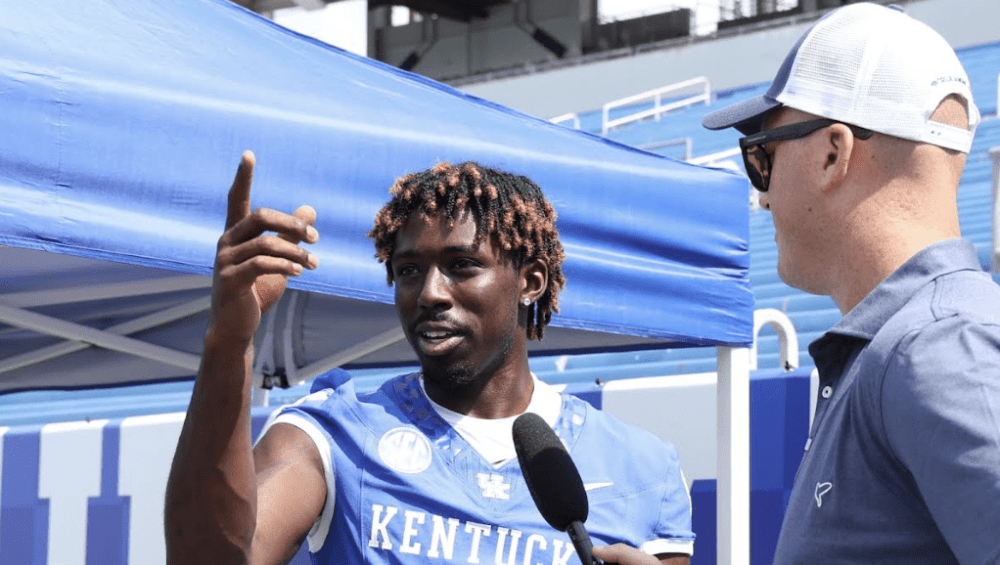 Shamar Porter (Vicky Graff Photo)
Freshman Shamar Porter of Nashville had offers from Georgia, Alabama, Tennessee, Mississippi, Penn State and a lot of others before picking Kentucky. The 6-3, four-star receiver was one of UK's top players in the 2023 signing class but even when UK's passing game was struggling this season, he did not play.
Offensive coordinator Liam Coen revealed recently Porter injured his ankle in preseason practice and that's why he's been behind other players this season. However, Coen has not lost confidence in Porter.
"Shamar Porter is going to be a guy down the road that can help us win football games, whether that's over the next couple of weeks or going into bowl prep or going into the offseason," Coen said. "We're young but we've got experience right now.
"There's not probably a ton of true freshmen or young guys that will emerge over the next couple of weeks. But there are guys that you're looking forward to coming on once we get into that bowl prep and when you get into the offseason, that can help you move forward."
Another freshman's progress that Coen has liked even though he's not been on the field is offensive lineman Malachi Wood.
"He's transformed his body over the last year in the weight room. He's dedicated himself to this program and he's gotten better and better over the last couple of weeks," Coen said.
Wood, a Madison Central graduate, knew he needed to add weight and become more physical. He expected to be redshirted and hopes to compete for playing time in 2024.