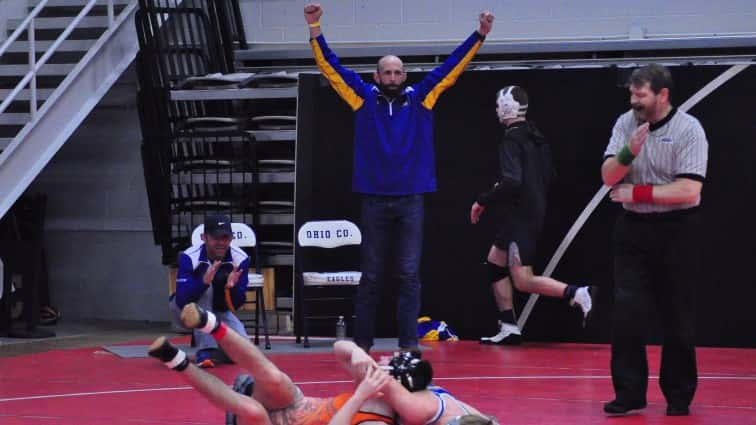 Caldwell County had six wrestlers qualify for the state tournament with two bringing home first place at the Region I Tournament Saturday at Ohio County High School.
Dylan Gray, who won a region title in a lower weight class last year, came into the region match ranked No. 2 in the state in the 182-pound class. He won his first two matches in less than a minute with a pair of pins and beat No. 3 ranked Diion Leavell 7-6 in the championship match.
Dylan Walls took first place in the 106-pound class. He pinned his first two opponents and then outlasted Christian County's Gage Fowler 10-8 in overtime in the championship match.
Seth Slayton advanced to the championship match of the 152-pound division. He beat Ohio County's Gavin English in the semifinals but fell to Hopkinsville's Zlatko Skuljan 8-5 in the championship match.
James Jones finished fourth in the 113-pound division, losing to runner-up Austin Gibson in the semifinals and dropping a 6-3 decision to Fort Campbell's Alexei Royar in the third place match.
Colin Walls took fourth place in the 138-pound class, losing to Union County's Saul Ervin in the semifinals and to Christian County's Ishmael Griffie in the third place match.
Tristian Tinsley finished fourth place in the 145-pound class, dropping a 6-0 decision to McCracken County's Hunter Vlach in the third place match.
Wrestlers who placed but failed to qualify for the state tournament were Semaj Kimbro, who finished fifth in the 120-pound class; John Paredes, who finished sixth in the 170-pound class; and Samuel Teutsch, who finished sixth at 195.
Caldwell County finished fourth as a team with 114.5 points. The six Tiger wrestlers will compete in the KHSAA State Wrestling Tournament Friday and Saturday in Lexington.