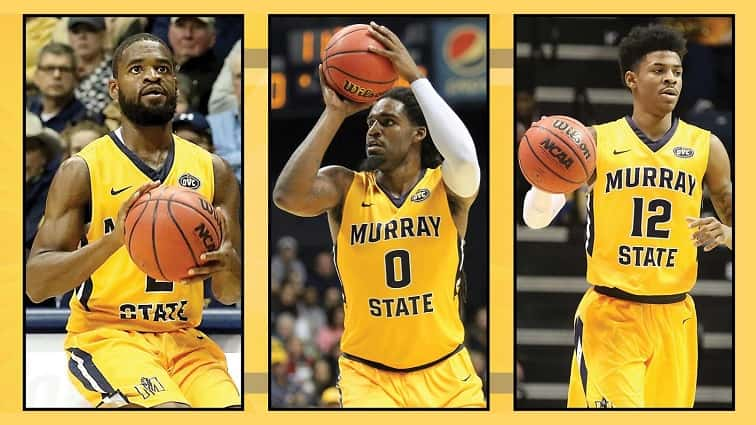 The Murray State Racers landed a trio of players on the National Association of Basketball Coaches All-District 19 Team when Jonathan Stark, Terrell Miller, Jr., and Ja Morant were honored. The MSU players on the list were also honored this season as All-Ohio Valley Conference selections.
Heading into this week's NCAA Tournament game against West Virginia in San Diego, the Racers wouldn't be in the Big Dance if not for this pair of seniors and one fantastic freshman. Stark was named to the All-District 19 First Team and Miller and Morant are on the Second Team
Jonathan Stark is leading the OVC in scoring for a second straight season at 21.8 points per game and has already been named the OVC Player of the Year and to the United States Basketball Writers Association honors. Stark is MSU's all-time leading scorer for two-year players and set a MSU single-season record for made 3-pointers with 109 heading into the NCAA's.
Terrell Miller has been an amazing hybrid talent for the Racers for his ability to play big and shoot from long range. With 10 double-doubles this season, Miller is also among the OVC leaders in 3-point shooting, but he's 31st in the nation with 6.97 defensive rebounds per game and fourth in the OVC in field goal percentage at .500. He enters the game Friday with West Virginia needing only 15 points to become the 21st MSU player with 1,000 points and 500 rebounds.
Ja Morant is the Racers' do it all freshman guard and comes into the NCAA Tournament ranked 20th in the OVC in scoring (12.6 ppg), 10th in rebounding (6.8 rpg) and second in assists (7.3 apg). Morant made headlines (Dec. 28) against Eastern Illinois when he recorded just the second Racer triple-double since 1984 when he had 11 points, 10 rebounds and 14 assists.
(Courtesy MSU Athletics)