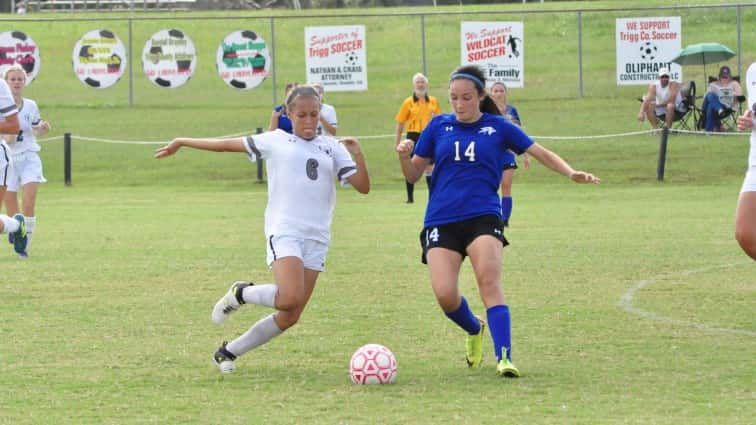 Trigg County saw their streak of ten matches without a loss come to an end Saturday with a 5-4 loss to Fort Campbell at the Complex. Both teams had to overcome the unusually hot conditions for late September and the absence of key players.
Fort Campbell scored the first four goals of the game, with two of those coming with Trigg County playing a man down due to discipline reasons. Kaitlyn Cervantes scored the first goal off a pass from Jordan Hardy 12 minutes into the match. Less than a minute later, Cervantes added a breakaway for a 2-0 lead.
Jalene Lillie scored her second goal of the year at the 21-minute mark for a 3-0 Lady Falcon lead. Hardy finished the first half scoring for Fort Campbell when she scored off a nice pass from Cervantes at the 26-minute mark.
Trigg County got on the board when Madisen Ireland scored on a penalty kick four minutes before halftime. Ireland added a goal four minutes into the second half, but Trigg's defense failed to clear a shot in front of the Lady Falcon net, and Hardy banged home her second goal of the game.
Ireland added two more goals to bring Trigg to within 5-4 but ran out of time. Libby Redd assisted on one of the Ireland goals.
Fort Campbell was playing without two starters, including leading scorer Maddison Ruggles who was running with the Lady Falcon cross country team.
Trigg County sat three starters at the start of the game for disciplinary reasons. Two other starters didn't play due to injury and another didn't play at all due to discipline. Despite the adversity, the Lady Wildcats still had chances to tie and take the lead in the final ten minutes.
The Lady Wildcats fell to 9-4-1 on the season and saw their 10-match unbeaten streak end. That streak equaled the mark set in 2011.
Fort Campbell improved to 5-8 after an 0-5 start and is one win away from equaling last year's mark. The Lady Falcons host University Heights Academy Tuesday, while Trigg County will play at St. Mary Monday.