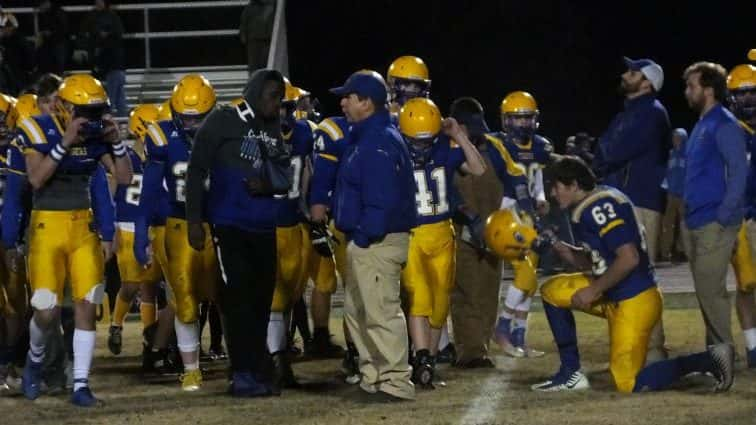 The regional final between Caldwell County and Elizabethtown Friday night marked the third straight year the teams had met for the chance to advance to the final four in Class 3A, and it marks the third straight year that the Panthers are the team to advance. E-town opened fast and never looked back on the way to a 56-6 win at Tiger Stadium.
The game got off to a rough start for the Tigers, as the Panthers Jay Becherer took the opening kickoff and returned it 81 yards to put E-town up 7-0 just seconds into the game. On the Tigers first possession, a penalty and a sack had Caldwell County going 3 and out and giving the ball back to E-town.
The Tigers appeared to have weathered the early wave from the Panthers after forcing a punt, however, Jey Gregory intercepted a Joby Jaggers pass and returned it 14 yards for a touchdown, putting the Panthers up 14-0 with just under 7 minutes to go in the first quarter.
On the ensuing possession, the Tiger offense continued to struggle to find a rhythm, going 3 and out, and giving the ball back to E-town. The Panthers then got on the board again when Derek Smith ran it in from 16-yards out, extending the lead to 21-0 with 3:38 to go in the first quarter.
After stopping Caldwell County on 4th down on the first play of the second quarter, E-town went right down the field, scoring on a 3-yard run by Panther quarterback Tyler Durbin to make it 28-0 with over ten minutes to go in the first half. After another Caldwell County punt, Jay Becherer scored on a 7-yard run, and with a two point conversion, Elizabethtown led 36-0 with 6:24 to go in the first half, and the game was played with a running clock from that point for the rest of the night. The Panthers would add a 42-yard field goal to end the first half at 39-0.
E-town pushed the lead to 46-6 on a 4 yard run in the 3rd quarter. Caldwell County then scored their only touchdown of the night on a 5-yard run by Dylan Gray to make it 46-6. E-town reserves would score the final touchdown of the night with 10:27 to go in the game.
Caldwell County ends the season at 10-3, while E-town improves to 12-1. The Panthers will now host Boyle County next Friday night with a berth in the Class 3A state championship game at stake.